https://www.wiredseo.com/wp-content/uploads/2017/03/mobile-marketing-statistics.jpg
500
1647
Clint Henderson
https://www.wiredseo.com/wp-content/uploads/2016/10/wired-seo-company-dk.png
Clint Henderson
2017-04-01 17:50:21
2017-09-20 17:26:48
2017 Mobile Marketing Statistics (Trends, Predictions, & Mobile Strategy)

Last Updated: September 20, 2017
This guide covers key statistics from multiple areas of mobile marketing — usage, apps, mobile search, video, mobile ad spend, shopping etc.
I think there's around 38 mobile marketing statistics covered here. Definitely over 50, if you account for all the fun facts sprinkled throughout.
But that doesn't matter. My goal here wasn't to create a massive compilation of stats. But rather to put together the most compelling stats surrounding mobile marketing. Hopefully, this data will help fuel your mobile marketing strategy for 2017 and beyond.
"New" indicates an update from a new study or report.
MOBILE SEO & SEARCH (AND GENERAL GOOGLE STATS)
Mobile and Search Engine Optimization are so intertwined now, the term "Mobile SEO" has become somewhat redundant.
Let's take a quick look at Google's algorithm updates for mobile search:
April, 2015: Google unleashed "Mobilegeddon", an update to their search algorithm to rank mobile-friendly websites higher.
May, 2016: A 2nd iteration of Google's first mobile-friendly update, in an effort to continue improving the mobile user-experience.
January, 2017: Google Intrusive Interstitials Mobile Penalty (Pop-up ads)
?, 2017: Google's Mobile First Index. Google announced late 2016 their plans to index and rank pages based on the mobile version of a web page, as opposed to the desktop version.
When is Mobile First Index launching?
Who knows… in March, 2017 Google's Gary Illyes said "The team behind the mobile-first index wants it to launch this year".
It seems as though Google's introduction of 4 ads in search results has impacted mobile quite a bit. More so than desktop, by a lot.
Mobile CTR for the #1 Position on desktop in 2017 is 29.2%.  #1 Position in 2015 was 27.0%. So, a substantial drop in 2 years time, but not nearly as big as mobile dropping from 28.6% to a 23.5% click through rate.
Learn more about click through rates and how to improve them here.
What's interesting is the fact that so many mobile users DON'T start their research using search engines. 33% go directly to the site they want, while 26% being in an app.
……says the search engine marketer.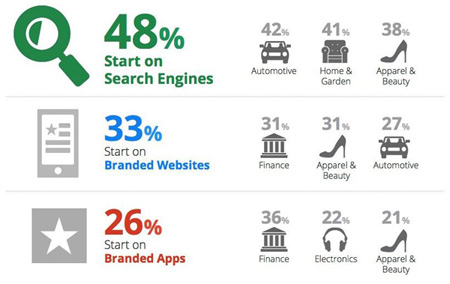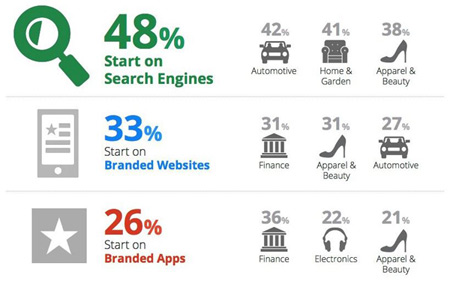 Google dominates when it comes to mobile search. And obviously, they're the top dog when it comes to desktop search as well. But only with a mere 81% search engine market share.
Google's 96% share is up from 94% (2016)
Merkle's Digital Marketing Report from 2016 highlights just how much Google has been pushing for revenue growth in the mobile sector.
According to the report, "This influx of mobile ad volume is driving average cost per click (CPC) lower and cannibalizing organic search visits, but it is ultimately propelling Google search spending to a six-quarter high.".
MOBILE SEARCH: LOCAL & LOCATION-TARGETED ADS
Mobile searches with local intent are on the rise, and advertisers are putting more money into things like location-targeted ads to capitalize on the trend.
According to Google, a third of mobile searches are local. And that local searches on mobile devices are growing 50% faster than mobile searches as a whole.
This is likely true. And likely the reason Google has begun putting more emphasis on local map ads in search, especially important for local search advertisers.
Location-based ads include those targeting users in a given location, and/or targeting users searching with local intent (i.e. "plumber dallas tx").
It's difficult to see search engine results by location since Google removed this feature. But there are still multiple solutions out there to view SERPs by geo-target location.
Mobile is one of the fastest growing areas for geo-targeted media. Advertisers are seeing great return with location-targeted ads on mobile devices. In the years to come, half of all ads may well be location-targeted.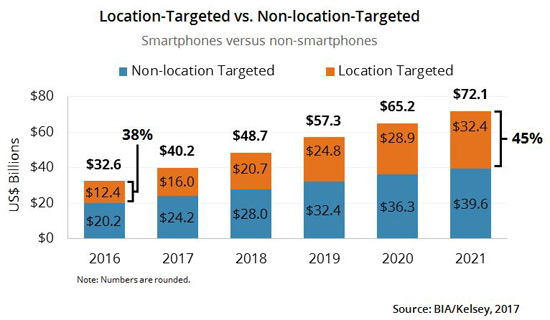 MOBILE PAGE LOAD SPEED, AMPS, & AFFECT ON TRAFFIC
Page Load Speed is essentially the amount of time it takes for a web page to fully load. And in mobile, pages will typically take even longer to load.
I actually just found this nifty little tool, while writing this. I don't know where else to put it, so I'm sticking it ry-chee-ruh! Assuming you trust Google's statistics, check out the effect mobile speed can have on your ad revenue.
Google's Accelerated Mobile Pages (or AMPs), introduced in October 2015, are meant to deliver lightning-fast web browsing. By serving pages through their own servers, Google is able to load content from search results with amazing speed.
For those not familiar, AMP pages are something you have to create yourself. Basically, an alternate version of your web pages that conform to the AMP Project specifications.
What's the return?
Well, for the most part AMPs have shown promise – the amount of AMPs on the web have grown 405%, and the Washington Post seems to have increased return visitors by 23% thanks to AMPs.
BUT, there's always another side to the story. According to the Wall Street Journal, "Multiple publishers said an AMP pageview currently generates around half as much revenue as a pageview on their full mobile websites."
So who knows. The Amp Project is still in its infancy, so only time will tell.
According to Google, the average time it takes to fully load a landing page on mobile is 22 seconds. Yikes! I'm actually happy to see Google was using Webpagetest.org for their research. This is our go-to for site speed analysis! I highly recommend.
It was years ago that Google told us page load speed was a search ranking factor. And, more recently, Google confirmed that mobile page load speed will be a mobile search ranking factor.
But regardless, don't you want to show consumers what it is you're offering? Why, with the needless friction? Fix it!
I will admit to doing this. If I'm on my phone, and click on something in the search results that I think is exactly what I'm looking for……. and there's like, any noticeable delay at all…. I immediately hit the back button and say "Nope. Sorry".  I promise, I actually say that, out loud.
Bounce rate is the rate at which a user first lands on a website and leaves without visiting another page. So if a user clicks on a web page from the search results, they're far more likely to bounce, if the page is taking far too long to load.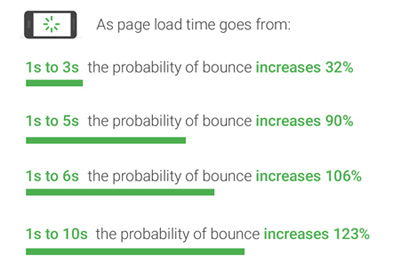 MOBILE-FRIENDLY DESIGN STATS
The mobile trend is no longer a trend, but rather a movement. Whether your company is service-based, e-commerce, B2B, it doesn't matter. It's imperative that your website is completely mobile-friendly.
Don't believe me? Just check the stats below.
And when I say "mobile-friendly", I'm talking about a completely functional responsive site design. Responsive, as opposed to a mobile version of a site that delivers different URLs on mobile (i.e. m.flickr.com).
Mobile versions tend to have a far worse user experience than if the site were responsive or if the site is designed solely for desktop.
You can get a good idea of how mobile-friendly your site is with Google's tool here. If you want to go one step beyond, then I suggest heading on over to Screenfly to check your pages responsiveness on all devices and screen resolutions.
A completely responsive web design will allow the content on your blog, and the rest of your site to adapt to all devices and screen resolutions (sizes). Responsive is meant to improve functionality and readability of content on mobile, tablet, or desktop.
And guess what? Mobile-friendly is an SEO ranking factor, which Google first announced back in 2015.
In Social Media Examiner's 2016 survey, 54% of marketers say their blog is optimized for mobile. This is up from 50% in 2015, and 43% in 2014.
MOBILE USAGE, INTERNET, & WEB TRAFFIC STATISTICS
At a global scale, smartphone usage is exploding. And not just in the U.S. and North America. The massive shift to smartphones is occurring in most markets worldwide.
What's the Global Device of Choice?
Those running on the Android operating system. 86% of smartphones sold worldwide are powered by Android, vs 13% running on Apple's iOS.
comScore's new report ("2017 US Cross-Platform Future in Focus") reveals digital media consumption is growing, and that nearly 70% is from mobile usage. Not terribly surprising, but another fact to help reiterate mobile's dominance.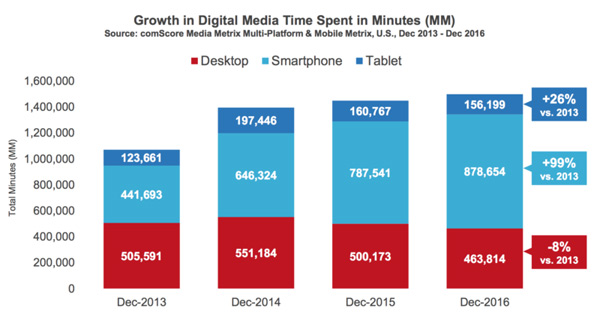 The amount of U.S. desktop/laptop only internet users is dwindling — down from 25 million in 2015, to 18 million people in 2017. And expected to be down to 11 million desktop-only users by 2021.
Meanwhile, Mobile-only internet users have grown 28% in the last two years alone, at 41 million U.S. in 2017.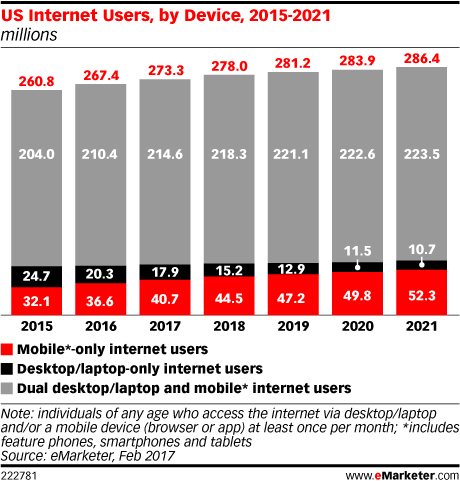 This is a cool statistic.  But honestly, I'm surprised smart phones haven't eclipsed 90% in America yet.
This baby has a smart phone! And you know what? He's about to close a huge deal!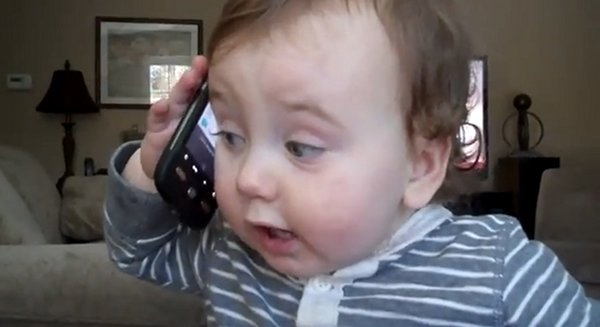 In October, 2016, global internet usage finally became mobile, with mobile/tablet eclipsing desktop 51.3% to 48.7%.
New Statistic (updated 9/20/17)
August, 2017 – Mobile/tablet global internet usage now at 57.3%, vs desktop at 42.7%. (Stat Counter)
This is why one of the first things we look at with new clients is how mobile-friendly the site truly is.
Make sure at the very least you've checked the following:
Mobile pageload speed
Googlebot rendering
User-Experience (UX) metrics in Google Analytics
Clear calls to action on mobile
Functionality on mobile
Element sizing for different resolutions
Content overlap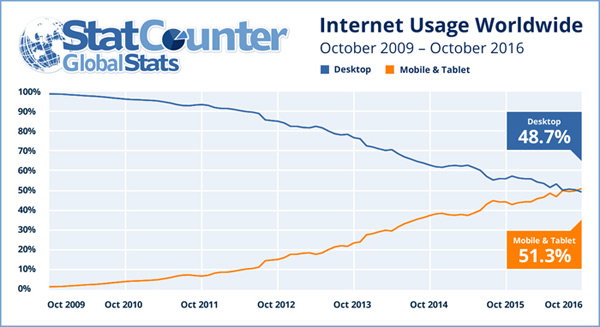 That's two-thirds of smartphone users — checking facebook news feeds, seeing how many likes their Instagram photo got, scanning email, and tweeting how their day is going — within 15 minutes of getting out of bed.
30% even admit getting "anxious" when they don't have their phone with them.
5 hours a day on mobile devices — this is up 20% from 2015. And most of this time is spent in apps, as opposed to web browsers.
Facebook and Facebook-owned Instagram and WhatsApp dominate the highest share with 19% of those 5 hours.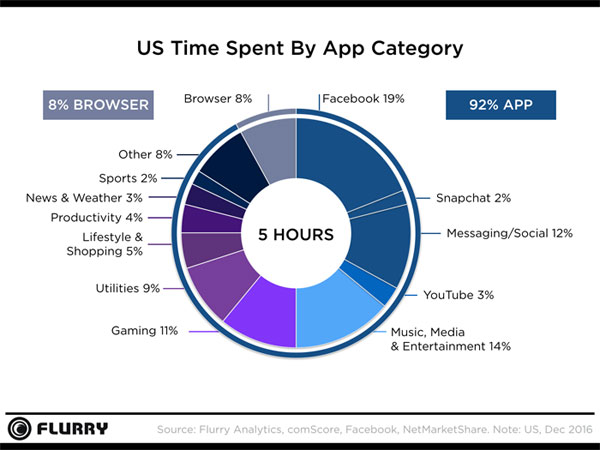 MOBILE SOCIAL MEDIA USAGE (SOCIAL APP STATISTICS)
Millennials are goin nuts y'all! 
Right?
Easy there. My fellow Millennials and I do indeed spend our fair share of time Facebooking and Instagramming on our smartphones. BUT, would you believe that Generation X is more addicted to social media than us Millennials? Eat that Obama!
At any rate, it's clear that social media and social networking usage on mobile is big. And it's still on the rise.
Mobile dominates when it comes to social media. And Facebook dominates when it comes to social media on mobile.
Top 10 Social Media Apps  (March, 2017): From the data at SimilarWeb, I took the top Google Play Apps based on SimilarWeb's Usage Ranking.
By tapping into this massive audience, marketers can improve brand awareness, generate targeted leads, promote a new product, and the list goes on.
The main advantage of Facebook advertising (aside from its reach) is segmentation. You can segment your ad reach to hit the perfect target audience.
And just for fun, here are the Top 3 most popular tweets of 2016!
LIMONADA 🗿

— elrubius (@Rubiu5) August 20, 2016
I don't know about you, but I'm feeling 22.

— Harry Styles. (@Harry_Styles) February 1, 2016
"To all the little girls watching…never doubt that you are valuable and powerful & deserving of every chance & opportunity in the world."

— Hillary Clinton (@HillaryClinton) November 9, 2016
M-COMMERCE (MOBILE SHOPPING STATS)
If you sell stuff online, mobile e-commerce is important to you. I don't like the term "m-commerce"… no reason, I just think it sounds dumb. Anyway, here are some mobile shopping statistics. Enjoy!
And check out our guide on Ecommerce (and m-commerce) SEO to learn more about increasing traffic and conversions to product pages.
It's taken a few years, but we're now at the point where most people are comfortable buying online. And now that more websites are mobile-friendly, and with app development and usage on the rise, users have decided they're more than comfortable shopping on their smartphone.
36% purchased a physical product. And 33% made a payment using a mobile app, up from 16% from 2 years prior (2014).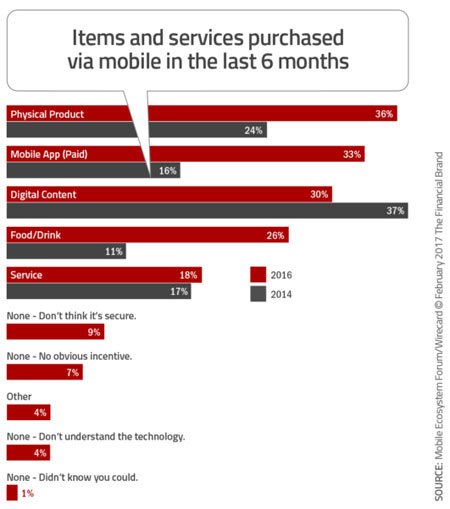 Data outlined in comScore's M-Commerce Report is from Q4, 2016, so super recent.  And from a marketing perspective, the data is even more relevant, as this includes holiday purchasing.
Of the $109.3 billion spent online in Q4, $22.7 billion (21%) was on mobile. This is up from a mere 4% in 2010.  So going from that to now 21%, it's safe to say that at some point in the near future, mobile will surpass desktop in e-commerce purchases.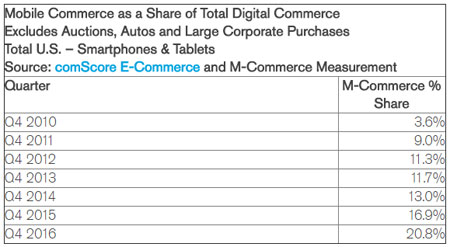 While spending on mobile is increasing, shopping cart abandonment is a great concern for mobile marketers.
That said, here's a positive takeaway for mobile marketing. According to the Barilliance report, "Retailers who retargeted users who abandoned their cart with shopping cart abandonment email saw conversions of 17.6% from these emails".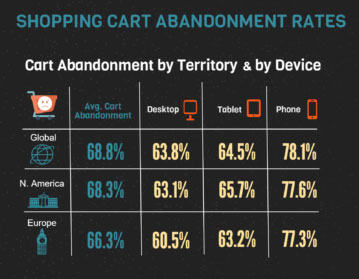 According to ventureburn.com, some of the friction points causing mobile cart abandonment include the following:
A long checkout process
Poor mobile design
Pageload speed
Registration forms
MOBILE ADVERTISING (OVERALL SPEND, FORECAST PROJECTIONS, & AFFECT ON CONSUMERS)
This section includes more general stats about mobile advertising, and numbers on mobile ad spend as a whole. You'll find more specific mobile ad stats sprinkled throughout this article – like stats on Video ad spend, Native (In-App) ad spend, etc.
A definite positive for mobile advertisers, especially those who've already been honing their mobile ad targeting skills.
However, I still feel as though mobile advertisers are behind this trend a bit. For example, oftentimes in our paid search for clients, we take over an existing ad campaign account. And it still boggles my mind that many don't even have bid adjustments set up, mobile vs desktop.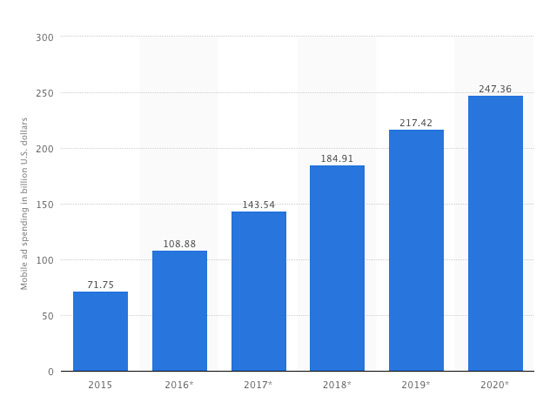 According to Smaato's Global Trends in Mobile Advertising Q2 2017 report, video was the fastest growing mobile ad format in Q2 2017, as video mobile ad spending more than doubled (+142%) in one quarter alone.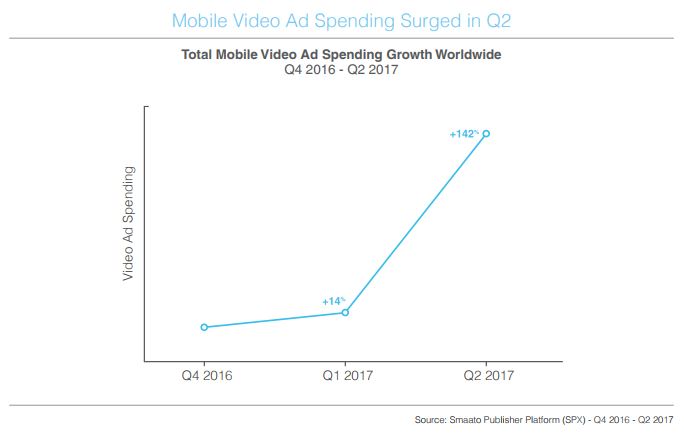 No doubt, the sheer volume of U.S. smartphone usage is driving the increased spend in mobile. And smart digital marketers are seeing great return by focusing more of their efforts on mobile advertising.
Forrester's study found that only 27% mobile ads resulted in a positive response, and estimates that 55% of mobile ad spend is wasted.
Uh oh…
The thing is, if a large percentage of your target audience dislike your ads, you're doing it wrong. You're throwing away money, and you're pissing people off, likely hurting your brand, and you probably don't even realize it.
I stumbled across a great article by Vieo Design, which details why people hate ads. Highly recommend! Emily Winsauer sums it up well with "People feel overwhelmed, interrupted, and stalked by bad digital ads, but they don't really mind the good ones."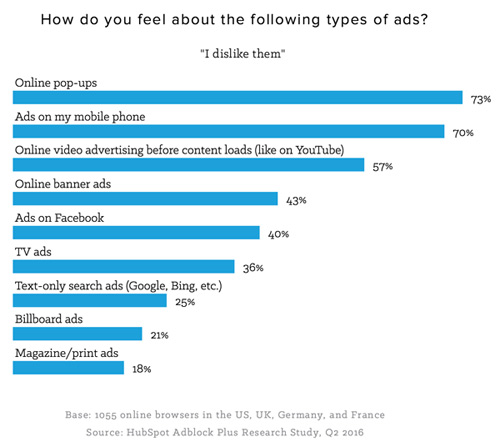 Adblocking has gone mobile. And to great scale. According to PageFair's report, 2015 showed a 90% increase (YoY) in mobile ad blocking for web and in-app advertisements.
Globally, 419 million smartphone users utilize ad blocking tools, comprising 21% of the 1.9 billion smartphone users overall.
MOBILE VIDEO MARKETING & VIDEO CONSUMPTION
Video advertising is all the rage. And video traffic on mobile specifically, is projected to grow 50% every year through 2022. So expect to hear more about mobile video marketing in the months and years to come.
Technically, this statistic isn't specific to mobile. But since video is on the rise with mobile, it's more than relevant.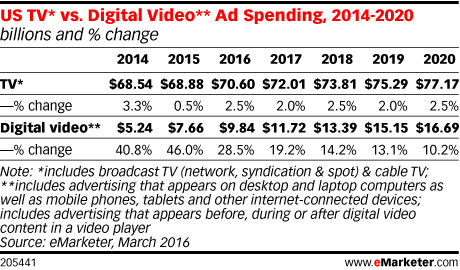 And, according to Ericsson's Q3 2016 Mobility Report, mobile video traffic will see 50% growth every year through 2022.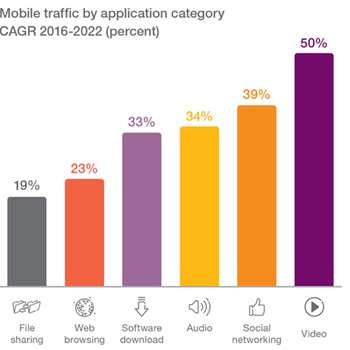 And if you can get creative, you can generate a huge reach with your video. Like this clever video ad about mortgage bailouts, with a lady dancing in the background inside of what appears to be a static photo. This video ad from Lower My Bills generated 3.4 million views as of this post.
Caveat: The stat goes, "YouTube reaches more 18-49 year olds during prime time than the top 10 network shows combined."
So take with a grain of salt. This statistic comes directly from Google, and is definitely being used to kick'em while they're down — tv that is.
Caveat #2: Stat was introduced during YouTube's annual pitch to advertisers, known as Brandcast. Ben Popper of The Verge writes "Those numbers are a bit vague. We don't know exactly how many people are watching, or whether any individual channel comes close to matching the reach of network TV programming."
Regardless, we can all agree, YouTube has a shit-ton of viewers.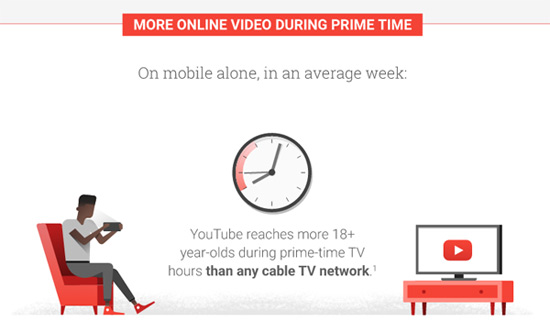 MOBILE EMAIL STATISTICS
Email marketing has come a long way since Hotmail was introduced back in 1996, the first web-based email service. I think I still have a hotmail account somewhere out there.
Mobile has altered the landscape for email marketing. Users prefer email with a responsive design. Email is one area in mobile marketing where I'm seeing a large marketing lag behind consumption growth.
This was April of 2016, where Litmus reported a record-breaking 56% of email opened in mobile. This is an 8% increase in mobile email opens YoY.
I was trying not to add a stat from before 2016, but this is the most recent data I could find. However, Yesmail's email marketing report uses data from Q4 of 2015, so not terribly distant.
Yesmail's mobile email report states that "Brands that have fully embraced responsive design see 24% more clicks coming from mobile than those that have not employed responsive design".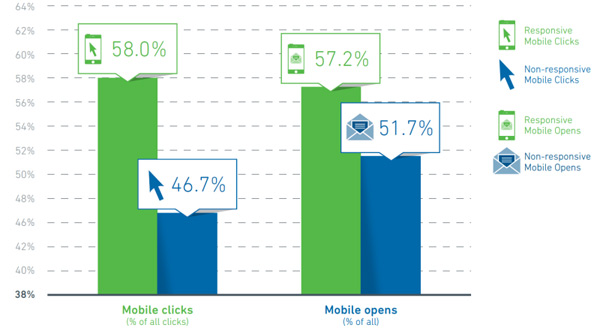 Sounds to me like a good opportunity for email marketers. For those interested, here's an extensive guide on responsive design for email.
APP USAGE & ADVERTISING, & NATIVE (IN-APP) ADS
In-app ads are one of the fastest growing forms of mobile advertising. More brands and agencies are noticing the disparity between the time people are spending in apps versus the allocation of ad spend in this medium.
This is 150 billion hours more than the previous year. And if you're thinking it's all from gaming apps, think again.
App Annie's report shows that non-gaming apps (i.e. banking and shopping apps) contributed more to the growth than gaming apps did.
When it comes to the % of smartphone time spent in apps, Americans spend 86% in apps, and 14% in web browsers.
And here's a look at the top 5 most used iOS apps, courtesy of Moment.

And over 20% of the time an app is used only once.
Why?
Because it was "not useful", as reported by Adobe, for all age groups as the top reason for deleting an app. Adobe's report says successful "apps must be useful, usable, and best-in-class".
This would make up $53.4 billion in advertising spend.
Native ads in mobile are like the sponsored ads you see in your Facebook news feed. The Mobile Marketing Association defines native ads as "a mobile advertising method in which the advertiser attempts to gain attention by providing content in the context of the user's experience. Native ad formats match both the form and function of the user experience in which it is placed." 
I'm reminded of this clip from Futurama (watch the 1st minute of video to see the future of Native Advertising)
/
5 Comments
/
by Clint Henderson
https://www.wiredseo.com/wp-content/uploads/2017/03/mobile-marketing-statistics.jpg
500
1647
Clint Henderson
https://www.wiredseo.com/wp-content/uploads/2016/10/wired-seo-company-dk.png
Clint Henderson
2017-04-01 17:50:21
2017-09-20 17:26:48
2017 Mobile Marketing Statistics (Trends, Predictions, & Mobile Strategy)