https://www.wiredseo.com/wp-content/uploads/2016/07/nap-citation-analysis-banner2.jpg
500
1647
Sinclaire Dickinson
https://www.wiredseo.com/wp-content/uploads/2016/10/wired-seo-company-dk.png
Sinclaire Dickinson
2016-07-28 18:45:57
2016-09-26 22:24:51
NAP Analysis: Citation Consistency Tips for Local SEO

What is a Company NAP?
NAP stands for Name, Address, Phone number. Essentially, it's your basic information across the web. How your NAP appears across the web can affect your ranking in organic search results and very much affects where you rank in Google's local map results. Below, an example of a lovely NAP…
NAP Example
Perfect Pies Pie Shop
  4567 Elm St.
  Fort Worth, TX 76116
  (817) 987-6543
Your NAP should be listed on your website and social accounts, but it may also appear in online directories, many of which focus on local business data. This includes sites like Yelp, YellowPages, CitySearch, your local chamber of commerce, Super Pages, Foursquare, and even sites specific to your niche/industry.
Each occurrence of your business information on a directory or local listing site is referred to as a "citation" (more specifically a "structured citation", but we'll stick w/ using citation for simplicity sake).  You'll want to keep track of all citations.


Why NAP Consistency is Key for Local SEO
90% of local experts say accurate citations are Critical or Very Important to local search ranking
Source: Bright Local 2016 Expert Local SEO Survey
Top 50 Local Map Ranking Factors — Coming in at #2 was Consistency of Citations
Source: Moz 2015 Local Search Ranking Survey
The citation consistency of your business across the web helps search engines decide where you are geographically relevant for various local search queries. This is particularly important with local SEO, as Google uses the NAP information it gathers on your company to present you to customers surfing the web in your area.
So, say you're selling pies right down the road from someone searching for "pie shop near me". If search engines can associate you with that location, you get an edge over Pie Monopoly, Inc distributing from the next state over. However, for Google and Bing to be able to recognize where you are, your business data and citations need to be clear and consistent.
The more consistent your business data is, the more confident Google will be in the validity of your NAP, and the higher you rank in the Local SERPs (search engine results pages) and Map results.
Google's Local Map Rankings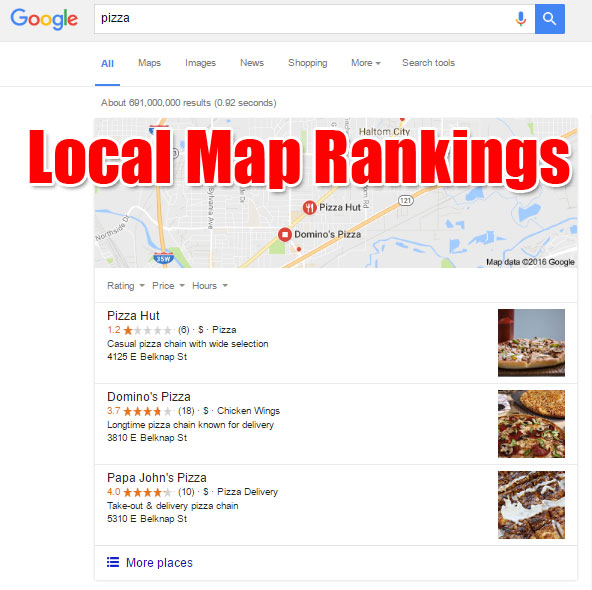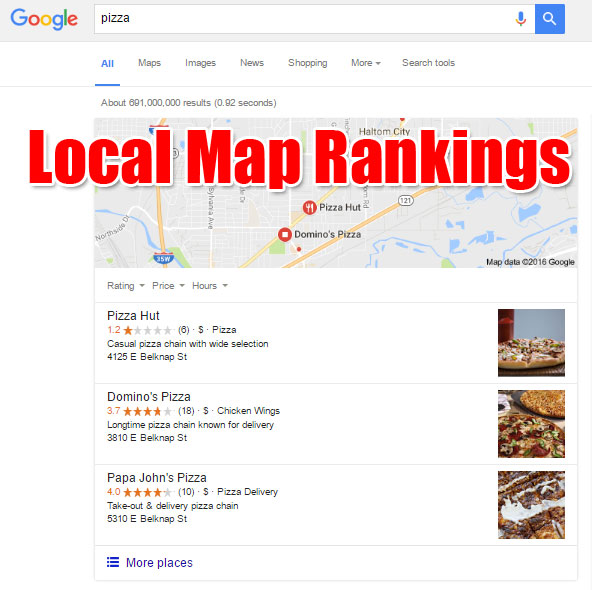 NAP Analysis: Steps for Citation Consistency/Accuracy
Step 1) Confirm All NAP Information
Step one when creating or fixing your online business data is to confirm that you have one set of information that accurately represents your company's location.
Note: For multi-branch companies, each branch should have it's own unique NAP.
Make note of any previous addresses, numbers, and names that your company has had. If you switched phone numbers two years ago and never did any online clean-up, odds are that old number is still floating around the web with your name attached to it. Knowing what inaccurate information there might be lets you go straight to it, rather than having to wait for it to sneak back up on you.
So, if you were once Pete's Perfect Pies and then Pete left to pursue another passion, you're going to want to go back and find any listings that still have Pete in the name. Yes, it's tedious. Yes, it matters.
Step 2) Search, Search, Search 
You want to carefully document where your business NAP is listed on the web. For this, simply perform a search for your company using various combinations to find any NAP citations you aren't aware of.  But first, we need to make sure we've located and documented all old and incorrect business data.
Basic Company Search
Start basic by searching your company's name. Go through the links that come up and see if any have old or missing "AP" information. Make sure you document all old or incorrect phone numbers, addresses, and even company name.   Once you've combed through all the citations brought up by the name, move on to…
Basic Phone Number Search
Search your company phone number (perhaps combine with your city). This will bring up any variations of your company name that are out their listed with your number. Do the same with your address. Go through until you feel you've seen every listing out there. Again, document all old/incorrect business data you see.
Search Combinations for Locating more Incorrect Information
Find even more NAP variations with the data you've already collected.  Take an incorrect phone number you've found, search the phone number and filter out the correct company name to find even more potential company name variations — so 555-123-1234 -"Company Name".  The negative in front of company name (in quotes) will return results that include the phone number, but do not include that specific company name.   Do the same type of search for all phone numbers, all addresses, and all company names to discover more incorrect/inconsistent/outdated business data.
Locate Citations
Once you've collected and documented a list of phone numbers, addresses, and business names, you're going to want to perform multiple searches for each one.  Search an incorrect phone number + your company name, and do this for all documented data until you've located all citations.
NAP hack: You can run a Whitespark search using these same bits of information. Whitespark has a great Local Citation Finder that can help you find existing business listings. We recommend its use in conjunction with manual Google search for ultimate thoroughness.
Step 3) Lock Down the Main Players (Local Data Providers)
Pay special attention to the sites that serve as data aggregators/providers for other directory and local listing sites. These are sites that other directories pull information from to fill their own set of listings. You must isolate and correct these; otherwise, you could be fixing information on smaller sites that are just going to go back and pull the same incorrect information again.
Some of the biggest ones you'll want to check: Acxiom, Express Update (infogroup), Factual, Localeze (Neustar)
Here's a great chart from Moz showing how local company data flows throughout different sites.  Check out Moz to learn more about the main local data providers and who powers who. 
Major local search data providers/aggregators in the Local SEO Ecosystem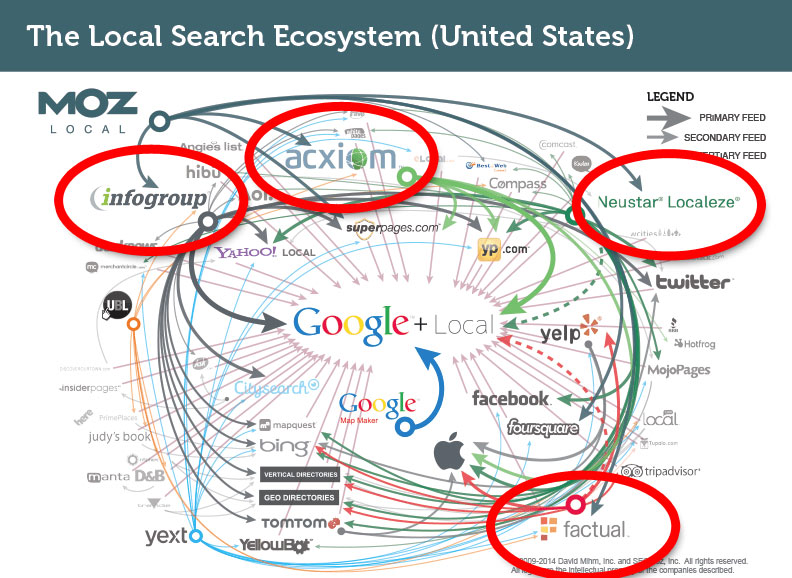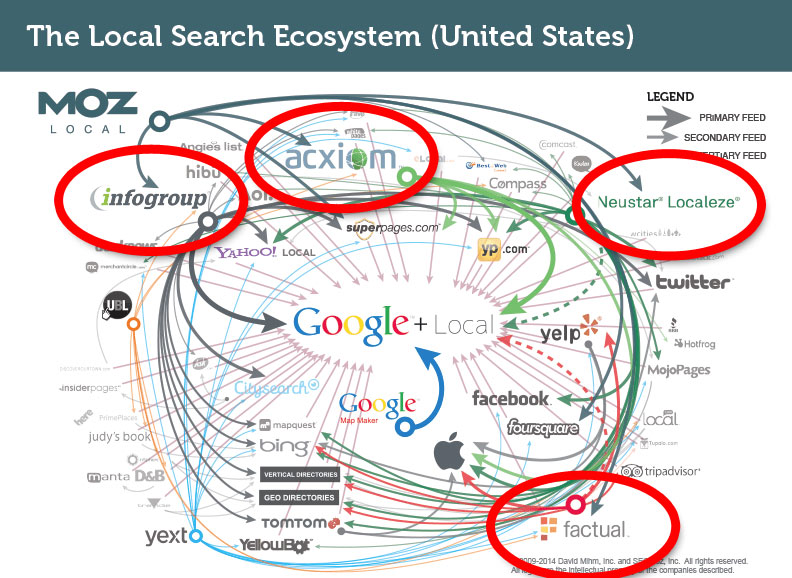 There may also be aggregators for directories specific to your industry. For example, NPPES aggregates information for many healthcare provider directories.
NAP Hack: To check and see if you're on a particular site straight from Google, search "site:sitename.com Your Company Name" in the Google search bar. This is great for directories with fussy search bars. It also allows you to find results from searching sections of your NAP, rather than having to get the name exactly as it is listed on the directory site to have it show up.
Note: Keep in mind, this method will ONLY show pages that Google has in its index.  It's still quite possible for a duplicate listing to exist on a site, and NOT have that page show in the search results. 
Find your listings through a Google search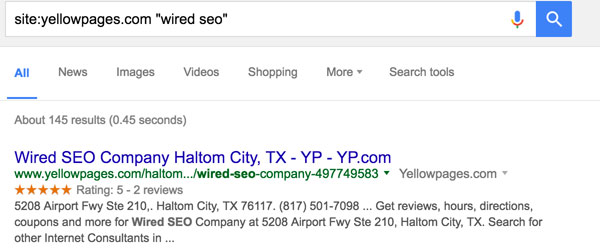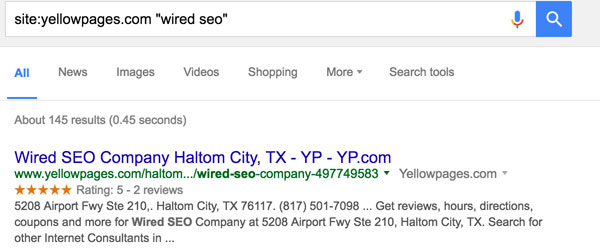 Step 4) Sniffing Out Duplicate Listings
On some local & general business listing sites, it is possible for there to be more than one listing for your business. These duplicate listings can pop up if you, a customer, or an employee goes in and creates a listing on a site without checking to see if you're already listed. Or, the site may pull from aggregators and create individual listings for each correct and incorrect NAP they find on your business. However the duplicates got there, you want them to go away. Not only are duplicate listings often hosts to incorrect information, they make you look spammy to Google and hurt your credibility.
NAP Hack: Make sure you aren't missing duplicate listings when you are searching out your existing citations in Google. Sometimes, Google hides similar listings from you when you search because it assumes you don't need to see the same thing twice. To ensure this doesn't happen, check to see if you get the following message at the bottom of your search results page. Click "repeat the search" and you will get the full list of results.
View Omitted Search Results for Potential Duplicates


Step 5) Keep Track of it All (Thorough Citation Documentation)
It's easy for bad information to multiply on the web. Keeping track of where your information is listed can help prevent you from getting overwhelmed.
Of course, there are factors that will influence how many listings your business has floating around out there. Company size, past information, if you've worked with a marketing service in the past, and which aggregators have your information can all influence your presence. If you're a brand new company, you get a cleaner slate–but check and see if your number and address were formerly associated with another business so you can dissociate yourself and prevent any Google confusion. No one is immune to NAP inaccuracy!
I like to keep a full portfolio for each client's citations across directories and the web. A color-coding system is a helpful way to keep track of which citations list the correct NAP information, which are incorrect, and which ones you're in the process of updating. Now, the process of updating each citation is a whole 'nother story…we'll save that for a later post.
Happy NAPping Y'all!

Digital marketing content editor, creator, strategist for Wired SEO, an inbound marketing firm based in Fort Worth, TX.

Latest posts by Sinclaire Dickinson (see all)
/
2 Comments
/
by Sinclaire Dickinson
https://www.wiredseo.com/wp-content/uploads/2016/07/nap-citation-analysis-banner2.jpg
500
1647
Sinclaire Dickinson
https://www.wiredseo.com/wp-content/uploads/2016/10/wired-seo-company-dk.png
Sinclaire Dickinson
2016-07-28 18:45:57
2016-09-26 22:24:51
NAP Analysis: Citation Consistency Tips for Local SEO