https://www.wiredseo.com/wp-content/uploads/2013/10/how-to-write-page-titles-seo.jpg
500
1647
Clint Henderson
https://www.wiredseo.com/wp-content/uploads/2016/10/wired-seo-company-dk.png
Clint Henderson
2013-10-17 03:06:55
2016-10-08 22:57:20
How to Write Page Titles for SEO

What are Page Titles?
Page Titles or "Title Tags" are those large hyperlinks that appear in the search results after you search something in Google, or other search engine.  They are used to describe the content of each page.
Page Titles are one of the main SEO (search engine optimization) ranking factors Google uses to determine where web pages appear in the SERPs (search engine results pages).
In the search results, Page Titles look like this…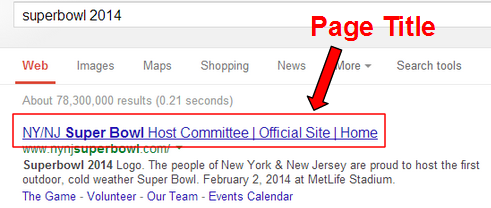 In the code of the site itself, they look like this…


On the page itself, they look like this….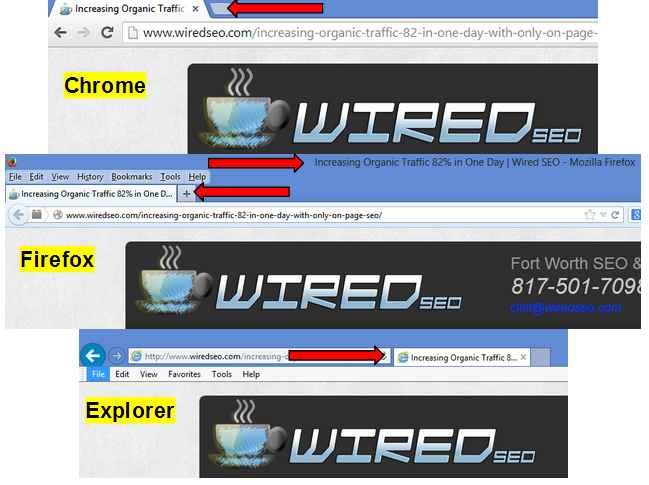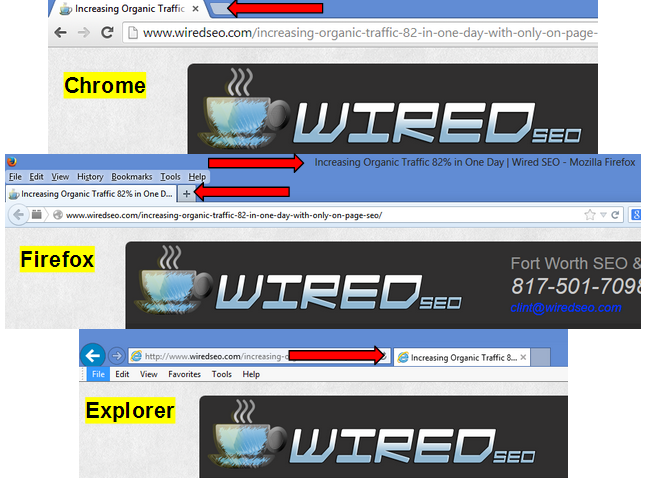 Why Page Titles are Important
Google uses hundreds of rankings signals in their algorithm.  Many of these signals have been devalued over the years.
Examples of SEO factors that matter far less now than they used to…
Meta Descriptions

Keywords in URLs

Keywords in Backlinks (links pointing to your site)

PageRank
But one element that is nearly as important to SEO now as ever before is the Page Title.  This makes perfect sense.  The Page Titles displayed in Google are there to help users decide what page they want to go to next.  Since Page Titles are still very important to users, they are still important to Google.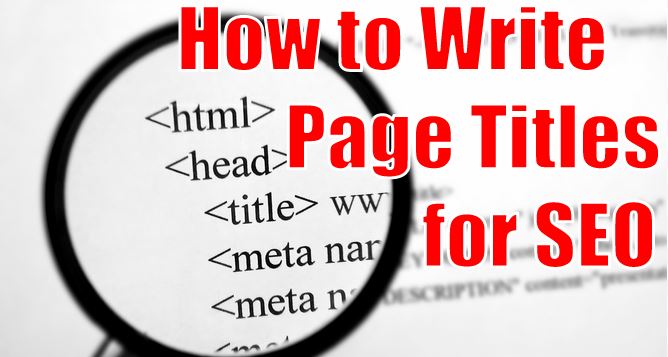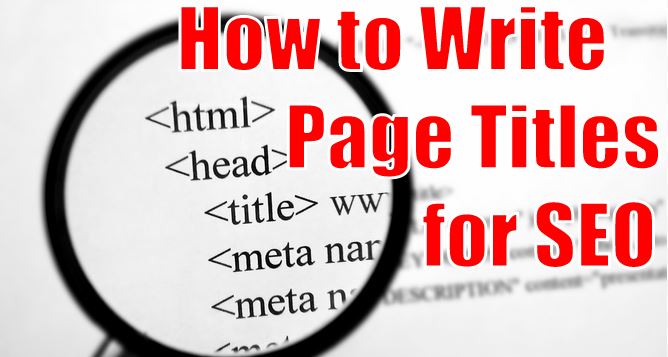 How to Optimize Page Titles
Optimizing the Page Titles of your website for search engines (as well as for users) is not difficult.  Here are a few things to consider…
Length of Title
Page Titles generally should be to be kept to 65 characters or less.  Anything more is going to get left out in the search results.


Use Target Keywords
You want to place your target keywords in the Page Titles.  Not only will this help you rank higher in the search engines, but it will also increase your click through rates as these keywords will be bolded.
For the most part, you want to put the main keywords at the beginning of the Title.  The keywords at the beginning are typically given the most weight when determining rankings.
For example, if your page is about gift wrapping ideas, then create a Title with those keywords at the beginning like…
"Gift Wrapping Ideas – Business Name"
Avoid Keyword Stuffing
Although you do want to place your keywords in the Title, stuffing the title with the same keyword or multiple variations of the same keyword in an unnatural way is something you should avoid.  Keywords yes, but don't go overboard.  Not only can you get penalized by Google, but you also might lose clicks by having a Title that looks spammy.
Example of a Spammy Title…
"Running Shoes, Buy Running Shoes, Get Shoes for Running" (to be honest, there are some that are far worse than even this)
Keep it Relevant
Keep your Titles relevant.  Remember, you are describing your content, so make sure you are being accurate, while at the same time, enticing searchers to click your link.
Use Your Brand Name
I always advise adding your brand/company name to all of your Page Titles – usually at the end.  This is free brand visibility for your company.  And if your company or brand is known and trusted in your niche, then you will increase the likelihood that someone clicks on your link.
This is just my opinion, some disagree.  Here's a pretty good Q&A thread from Moz on the topic. 
Avoid Default & Blank Titles
Some CMS's (Content Management Systems) allow you to have a default Page Title so that if there wasn't one created for a page, the default Title will be in place.  This causes a duplicate content issue and is not best practices for SEO.
Just as bad is having no page title at all.  Each page MUST include a Title.
I just did a search that for "untitled document" in the Page Title and I'm seeing over 29 million results.  Yikes!


Make Titles Unique
As mentioned above, you don't want duplicate Titles or duplicate content of any kind.  So be sure each Page Title on your site is unique.
If you have hundreds or even thousands of pages, creating unique and compelling Page Titles can be a more difficult task.  If you need to, you can create patterns to save you the trouble of manually entering every title.
Here's an easy example from allrecipes.com.  They have thousands of recipes on the site.  Probably too many to write a unique title for all of them.
Here is their Page Title for a Barbecue Ribs page…
"Barbecue Ribs Recipe – Allrecipes.com"


They simply take the name of the dish and add "Recipe" on the end of it.  Although this is a simple example, you can take this idea a lot further.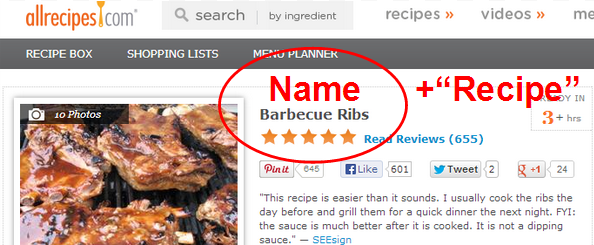 Optimizing Page Titles for SEO is a great and easy way to bring in more qualified traffic to your site.  This is one of the first things I look at when performing an SEO site audit.

Seasoned internet marketing consultant, founder of Wired SEO, digital marketing company specializing in SEO, Paid Search, and Social Media Marketing.

Latest posts by Clint Henderson (see all)
/
1 Comment
/
by Clint Henderson
https://www.wiredseo.com/wp-content/uploads/2013/10/how-to-write-page-titles-seo.jpg
500
1647
Clint Henderson
https://www.wiredseo.com/wp-content/uploads/2016/10/wired-seo-company-dk.png
Clint Henderson
2013-10-17 03:06:55
2016-10-08 22:57:20
How to Write Page Titles for SEO