https://www.wiredseo.com/wp-content/uploads/2016/09/increase-organic-click-through-rates-banner4.jpg
500
1647
Clint Henderson
https://www.wiredseo.com/wp-content/uploads/2016/10/wired-seo-company-dk.png
Clint Henderson
2016-09-14 02:17:38
2017-03-24 15:05:18
Increase Organic Click-Through Rates (CTR) by 30%+

What if I told you, you can increase the click-through-rate of your organic search results by 30%?  Sounds great, right?
Now, what if I said you'd be rewarded with higher search rankings, in addition to the extra clicks?
It's true.  Growing your expected organic CTR will improve clicks and SEO.  But first, let's understand what we're really talking about here, and explore the difference between PPC and organic CTR.

What is Organic Click-Through Rate? (PPC vs Organic CTR)
Most hear the term Click-Through-Rate (CTR), and think of PPC or Paid Search ads. After all, CTR is a key metric involved with optimizing PPC ads, and something that's largely under your control. Lots of testing goes into creating ads that resonate with searchers, ads that gain more click-share, and in the end, increase leads and sales.
Now, when people think of clicks in the organic search results, or the rate at which a user clicks an organic search result, they think this is all simply a byproduct of their current ranking position.  I rank #1, so my CTR is x%…. I rank #3, so my CTR is x%….
The reality is, CTRs can not only be optimized and improved in organic, but they can yield a massive amount of extra clicks if optimized properly.
Typical Organic Click-Through-Rates for Top Positions
Here's a look at expected organic click through rates for the top 10 SERP (search engine result page) positions — data from Advanced Web Ranking.
Expected CTR for Desktop ranking positions:
#1 – 28.9%
#2 – 14.9%
#3 – 9.5%
and so on…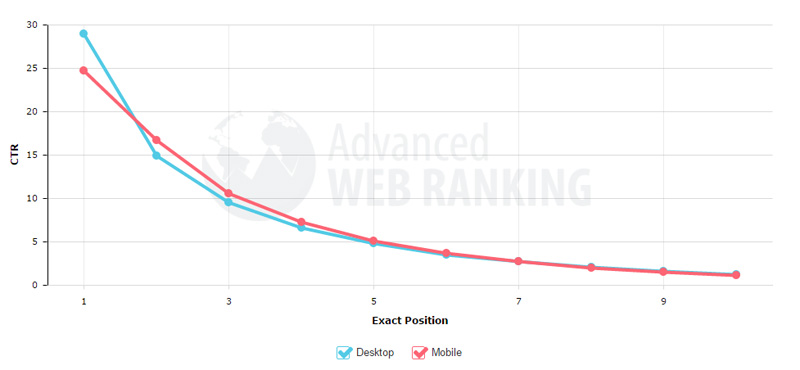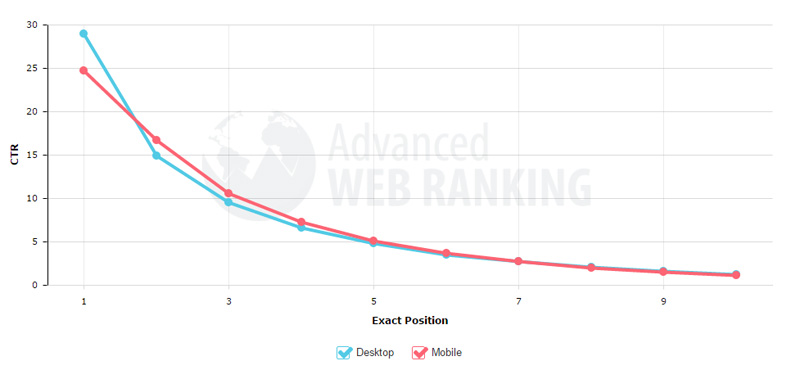 Notice the CTR variation in Mobile to Desktop. That's just the start. The actual CTR per position varies dramatically when comparing things like long-tail vs head terms, branded vs non-branded, etc.
That said, this offers a rough idea of the difference in expected click through rates in the top positions. And really, it doesn't matter. The idea here is to improve your current click through rates, and gain more click-share than the competition.
If you're interested in more of the nitty-gritty involving expected CTR data, check out the CTR study from Analytics SEO, and how they've segmented the CTR data into multiple dimensions.  
Organic CTR and SEO
In a year or two, organic click through rates will be a widely accepted ranking factor for SEO.  For now, it's still a bit under the radar.  The key here is to grow the expected CTR for our given SERP position.  This will help grow keyword rankings and of course bring in a lot more search traffic due to the higher click %.

Optimize CTR with Elements We Can Control (for the most part)
There are a lot of elements search engines will now display in their results.  A lot of this is under our control, at least for the most part.  Yes, Google will sometimes re-write Page Titles, pick and choose text for the description, and they may not always like your markup.   But for the most part, we can utilize things like the Page Title to successfully increase CTR.
The most basic (and core elements of SEO) include things like URL, Title, and Meta Description.  Others include things like reviews, dates, and breadcrumbs.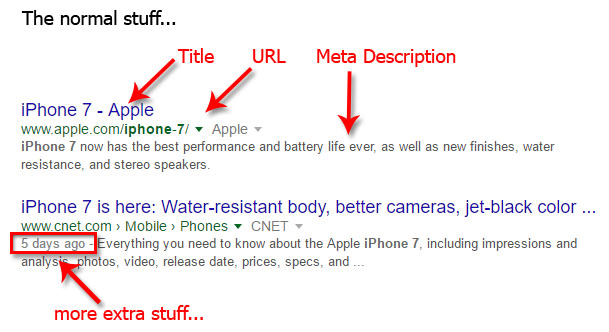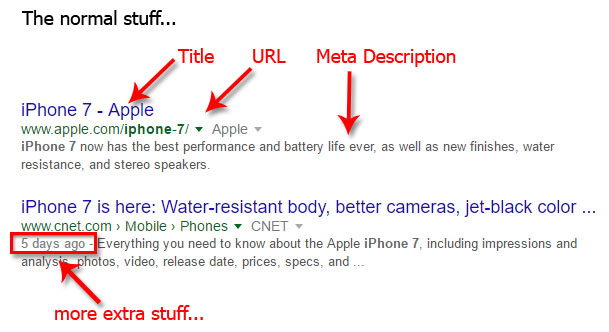 All these are great, and can all certainly help attract more clicks. However, the three SERP listing elements I recommend for organic CTR optimization are as follows:
Page Title
Meta Description
Reviews/Ratings Snippet
These are the biggest bang for your buck — the elements most likely to yield a noticeable increase in CTR and overall clicks.  Use all of these together, and you could very easily see a 30%-40% increase in CTR.
Don't Be Scared to Change Your Titles
So, maybe you're ranking #1 for a killer term, and just don't want to mess with your Title. You've optimized it for keywords, you like it, and you're afraid to lose your #1 position in the search results. Ok, I get that. If this apprehension is greater than the thought of getting 30% or even more clicks per day, then by all means, leave it be.
The truth is, keywords in Page Titles are not quite the ranking factor they once were.  So there's less reason to be worried about switching out one of your "key"words to make room for a call to action or something more click-worthy.
A recent analysis of 1 Million search results (yes… 1,000,000) reiterates the decreasing correlation between keywords in Page Titles and higher search rankings.*
Including your target keyword in your title tag may help with rankings for that keyword. However, because of Semantic Search, the impact doesn't appear to be nearly as great as it once was.
*Study by Brian Dean (Backlinko), Clickstream, SEMRush, Ahrefs, Marketmuse, and SimilarWeb. 
Yes, keywords in your Page Titles are in fact still a ranking factor. You'll still want to incorporate them. But don't be scared to change it up a little bit. In fact, if you can make changes that greatly improve your CTR, there's actually a good chance that your rankings will improve.
Whether CTR is a direct ranking signal is still somewhat debatable. But most SEO experts will tell you higher CTR will likely lead to rankings improvements. And we've seen this occur ourselves many times, enough say there is a strong correlation between higher CTR and rankings improvements.
Bottom Line: You're far more likely to see rankings go up, not down, by improving CTR
Running an Accurate CTR Test
It's important to note that there is no way to perform a test that's 100% infallible – there are too many factors involved when trying to A/B test organic search results. That said, if done the right way, you can have a high degree of confidence in the changes made.
So, how do we get started?
Choose Pages with enough Clicks and Impressions
Have a control page, or control group of pages
Double check the SERPs
Document when Changes went live
Mobile vs Desktop
Choose Pages with enough Click Data
You'll want to make sure that these are all already high ranking pages that attract plenty of clicks, so that you'll gather enough click data. Check this in Google Search Console (Webmaster Tools), and make sure the pages you're going to test have at least a few thousand impressions a month, and already rank in the top 5.
To see this, head on over to Search Console and go to Search Traffic >> Search Analytics.  You can segment the date range (although be aware that data only goes back 90 days) and Page, and look at Clicks and Impressions.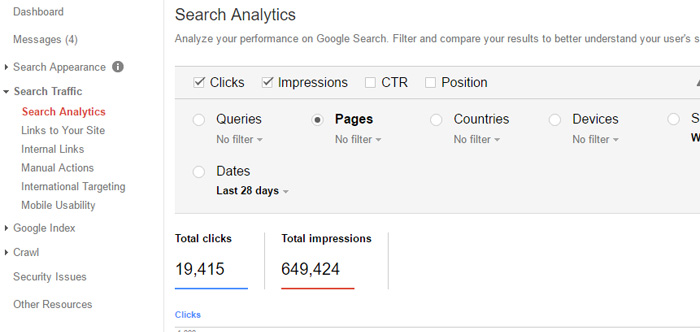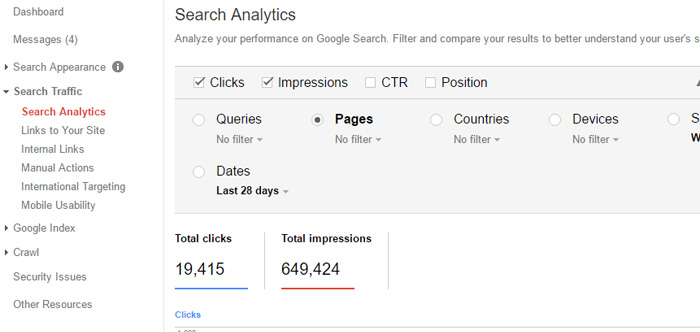 Have a Control Page
This is imperative if you're looking to get meaningful results. Without a control page, or group of pages, the results you end up with could be completely misleading.
The best way to test changes made to titles, descriptions, etc. is to make a change to a few pages of similar type, and leave others as is.  They will be the control.  Note how I said "pages of a similar type".  It wouldn't make sense to test changes to the home page, and use category pages for your control.  So choose similar sets of pages, all with plenty of clicks and impressions.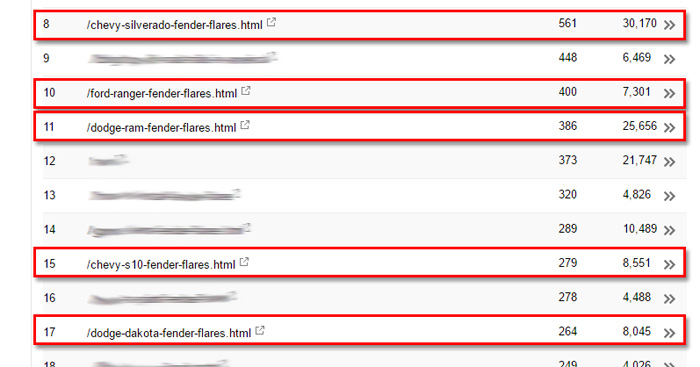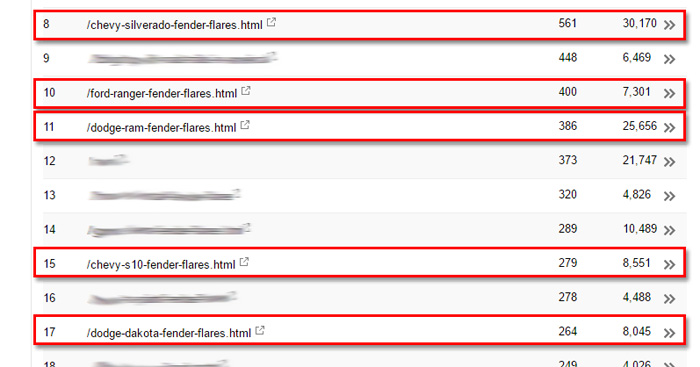 Double Check the SERPs
Analyze SERPs to document when certain keywords trigger Google to re-write the Page Title. Make note of all the main keyword variations that will be triggering your results. Google will sometimes re-write Page Titles, so it's recommended to be aware of this.
Be On Top of the Changes
If you've just made a series of changes to Page Titles or even Schema.org markup, it's important you note when the actual search results changed. Depending on how often a particular page is crawled, it could be days before the changes made actually reflect in the search results.
Step 1: Submit your URLs in Search Console to speed things up a bit. You can actually see your live changes in the search results in a matter of minutes sometimes by doing this.
To do this, go to Search Console, then Crawl >> Fetch as Google.  Add your page, and click Fetch, or Fetch and Render.


After it's finished fetching the URL, click the Submit to Index button.  You'll see this popup, and can choose either Crawl option.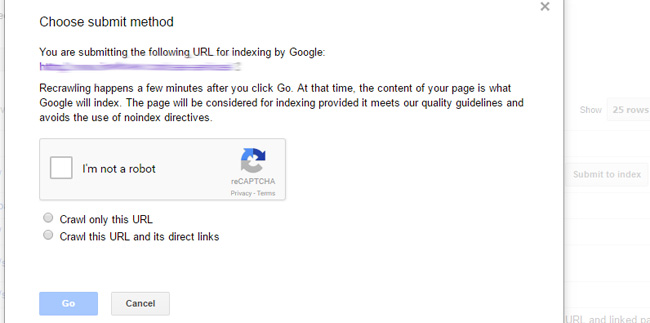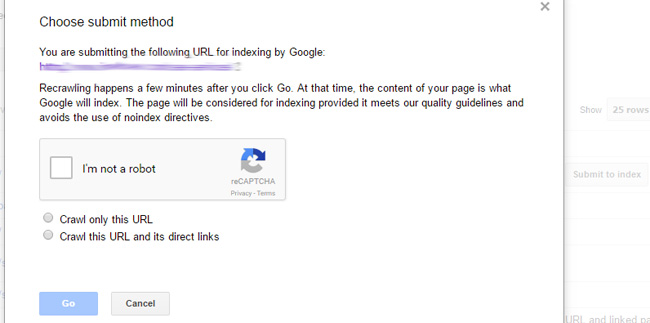 Step 2: Remember to document the day the changes took effect. This will be your benchmark for the before/after analysis.
Note the Difference in Mobile vs Desktop
CTR is different for mobile and desktop. So make sure you're aware of this and segment accordingly in Google Search Console and/or Google Analytics.
Post-Test Analysis
I just wanted to touch on this briefly, because if you've ran a thorough test but end up reading the data wrong, then this will not grow your bottom line.
Don't look at just the CTR data. Very important to note the actual difference in Clicks… getting more visitors to your site is the whole reason for this. Just because your CTR went up or down, doesn't mean clicks are up. So, very important to monitor the clicks.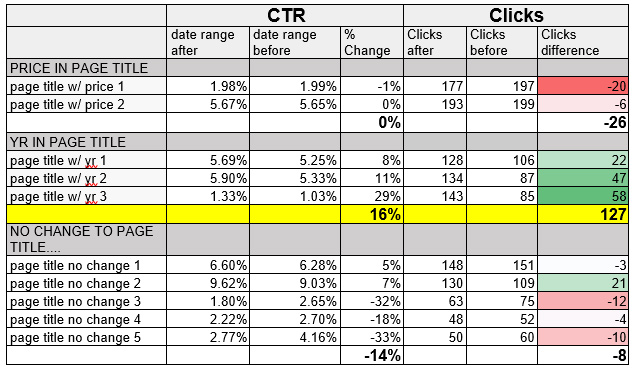 How to Improve Organic CTR
Use PPC? GOOD For You!
If you're using PPC (Pay-Per-Click) in combination with SEO, then I salute you! You're one step ahead of the game.
At this point, if you've had paid search going for a while, you'll know what ads have the best click through rates. So pick out those elements that have performed the best in your Ad Campaign, and use these to incorporate into organic results to boost your CTR. You can be very confident that these elements will translate to organic search as well.
If you're not running ads, then I'd definitely start by taking a look at competitor ads and making note of things that stick out to you, particularly the ad content of whomever is ranking the highest in sponsored ads. There's a decent chance they've already done ad testing, so checking out their ads is a good first move.
That said, here are some of the top ways to boost click through rates.
Numbers
Formatting
Standing out
Competitive Advantage
Brand
Reviews
Use Numbers (think price, dates, volume, etc)
Using things like dates, low-price, even #1, can have a positive impact on CTR.  Using a date in the Title and/or description helps add relevancy.


Adding a price, especially if it's lower than the competition is always a great idea.


Wow, that's a lot of stuff to do in Dallas!


Improve Formatting
Simple formatting adjustments to your Title and Description can actually yield very positive results. By appropriately adding in numbers, colons, parenthesis, dashes, etc, you can improve CTRs. I mean, it just looks cleaner, no?
Wikihow has done a good job at this – simple usage of the colon, parenthesis, and even the dash can do wonders. I also would be drawn in by "with Pictures".


Stand out in a Sea of Sameness
Sometimes, you get the golden opportunity to stand out when all your competitors have similar text.
If you notice that all the results look the same, leverage that to your advantage. Find a way to stand out and you're likely to gain more click-share.
In this example for "dallas cowboys jerseys", although FansEdge likely does well stating in the Title that these are "NFL-Licensed" jerseys, there's certainly an opportunity to grow CTR by incorporating something that stands out in the 1st half of the Title.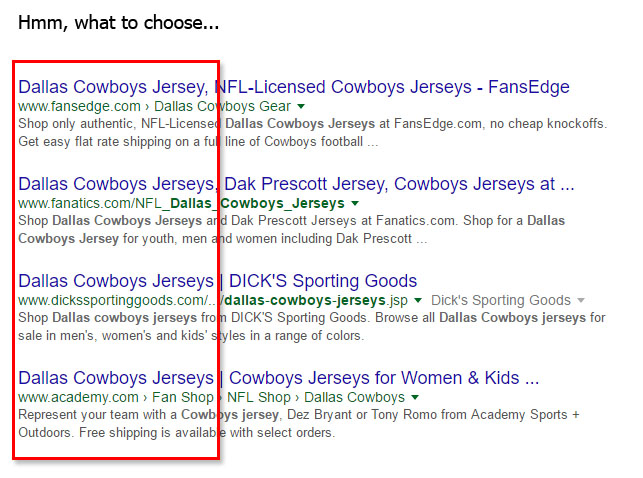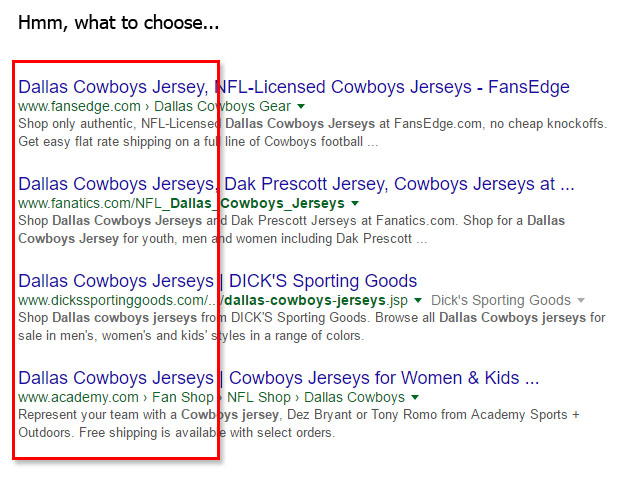 Leverage those Competitive Advantages
Whether it's price, free shipping, savings, speed, or whatever it is you think might be a selling point for your customers, this can be incorporated into your Title and Description.
Here's one we did recently (and this is by no means as optimized as it can be, we still have some work to do)….. but, we were very pleased that, by adding (Former Prosecutor), there was a huge improvement in organic CTR.


Increase Confidence with Brand Authority 
This can be the most effective element for CTR improvements. If your brand is recognizable enough, then you'll want to make sure your brand name is highly visible in the search results.
Amazon does a good job of this, usually with adding their Brand name at the very beginning of the Title. It's surprising that Walmart.com doesn't do this. "Walmart" is searched in conjunction with tons of search queries, the brand authority is massive.
In fact, in many cases "Walmart" is the top search volume query when paired with certain consumer goods. For instance, more people search for "2 in 1 laptops Walmart", than "2 in 1 laptops amazon".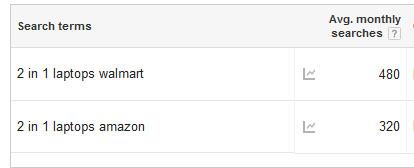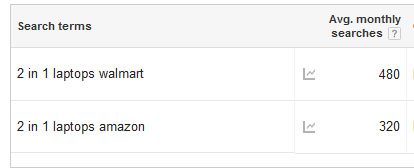 So why then does Walmart.com decide to list their Brand at the end of the Title instead of at the front, where it's likely to improve their click-share? I honestly have no #$%&ing clue…




Add Reviews/Ratings Markup
The idea here is simple, sometimes the implementation isn't so much.  But this works for both service and ecommerce sites alike.  Here's what happened when the only change made was the addition of reviews displaying in the search results.
Again, here's what the reviews rich snippet looks like…


And because we had (3) control pages, it was very obvious that not only did the star reviews rich snippet drastically improve CTR, but obvious that this is something we need to incorporate on all location pages.


Organic CTR Optimization can be your new Secret Weapon
For the most part, even in the digital marketing community, changing things like Page Titles for improved click through rates is not prevalent.  It just isn't.  Many are stuck in 2005, stuffing as many keywords as possible into the Title in an effort to boost rankings.
At some point, with RankBrain, Semantic Search, and whatever gets thrown into the mix a few months from now, it's going to become obvious enough to everyone that relevance, authority, and context are more powerful than keyword matching.  But, since we're not there yet, take advantage!  While your competitors are still in keyword-stuffing mode, you can be stealing some of their click-share, and potentially out-rank them because of it.
/
1 Comment
/
by Clint Henderson
https://www.wiredseo.com/wp-content/uploads/2016/09/increase-organic-click-through-rates-banner4.jpg
500
1647
Clint Henderson
https://www.wiredseo.com/wp-content/uploads/2016/10/wired-seo-company-dk.png
Clint Henderson
2016-09-14 02:17:38
2017-03-24 15:05:18
Increase Organic Click-Through Rates (CTR) by 30%+