https://www.wiredseo.com/wp-content/uploads/2015/11/ecommerce-seo-tips.jpg
500
1647
Clint Henderson
https://www.wiredseo.com/wp-content/uploads/2016/10/wired-seo-company-dk.png
Clint Henderson
2015-11-05 01:33:21
2017-01-29 16:07:48
20 SEO Tips for E-Commerce

Operating an e-commerce website is a lot different from operating a service-based site, community site, or any site where your main goal is not too sell products.
Rather than going through a lot of general SEO tips, I'm going to list out specific SEO tips that E-Commerce sites can use.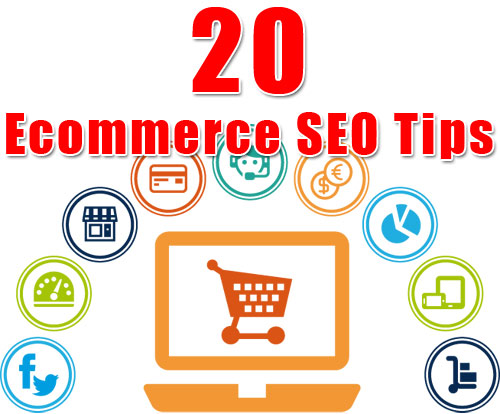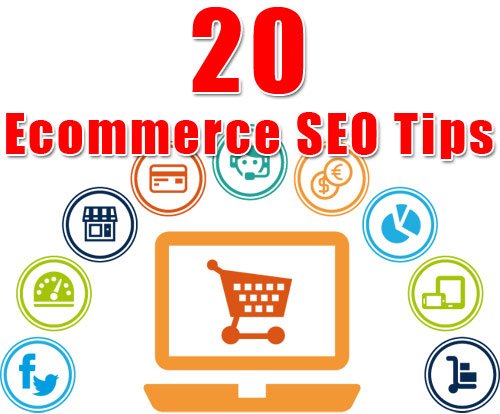 Product Reviews
Product pages are extremely important to e-commerce sites. Product reviews are a great way to beef up these product pages and help them pull in more traffic from search engines.
Typically, the more unique and relevant content you have on your product pages, the more traffic they'll receive – you'll also tend to increase visitor performance (more time on site, higher avg. pageviews, and lower bounce rates) as well as improve conversion rates and average order size. 90% of online shoppers say customer reviews influence their purchase decisions – so this one's a no-brainer, great for SEO and great for sales.
Want product reviews?
Simply asking your customers and asking them after they've had a chance to use the item can lead to a lot of product reviews. Send out automated emails to customers "x" amount of days after their purchase thanking them for their last order, and asking if they'd like to help other customers out by leaving a product review.
Want more product reviews?
Offer an incentive for leaving a product review – coupon codes, free products, reward points (if you offer these).
Also, make it as easy as possible for customers to review items. When sending them an email asking them to review an item, make sure there is a direct link in the email to the product page where they can write the review – or better yet, a direct link to the product review form.
You can also add information about product reviews in the actual packaging. Having a physical copy of product review instructions will increase the odds they remember to leave a review and can do so with relative ease.
BONUS TIP: If you're a new e-commerce store with a minimum amount of customers, you can still reach out to NON-customers for product reviews. If you sell items that aren't unique to your site, chances are there are many out there who'd be willing to leave a review, although it will probably take some sort of incentive.
Product Giveaways
Giving products away can help you build up your social presence, brand awareness, help build links, and help generate more content.
Social – Giving away free products on Facebook has been going on for quite a while. But it really does help grow your social following, not to mention reach and engagement.
Link Building – Send products to bloggers in your niche for a review. They will link back to your site pretty much every time. You can also host a giveaway on someone's blog or site and get links that way.
Related: Understanding Link Building for SEO
Brand Awareness – If you are trying to increase your brand awareness online – maybe you have a new product no one knows about – find out where your audience hangs out and get your product front and center. If it's YouTube, then send your product to YouTube channels that are authorities in your niche – have them talk about your product or review it in a video. You may not get a great link out of this, but this will for sure grow your brand.
Content – Give away items in exchange for product reviews. Do this on a regular basis for users willing to leave reviews, as this will greatly increase your search presence.
List Related Items
Listing related items on product pages are great for SEO. Here are 3 reasons why your e-commerce site should list related items on product pages.
Indexation & Accessibility – By adding multiple related items on product pages, you are linking "horizontally" to other similar product pages. This allows search engines to have a more thorough crawl of all deep product pages. This helps increase the likelihood of an accurate indexing of your website.
Visitor Performance – Listing related items on product pages allows site visitors to dig deeper into your site. By cross-selling your items, you will likely have users clicking those links, which will tend to improve avg. pageviews/visit, avg. visit duration, and bounce rates. Increased visitor engagement can certainly have a positive impact on your search rankings (not to mention sales and avg. order size!).
Context – Say you sell organic kitty litter. Linking to other organic cat products will solidify the context of the page, which will increase its value to a user searching for "organic kitty litter". With the rise of semantic search and Google's Hummingbird update, it's important to create pages around context, as opposed to strictly focusing on exact keyword phrases.
Structured Data
Structured Data for search engines basically means having "tags" in the code that will allow your site to display additional content in the search engine results pages. If search engines understand your structured data markup, they may show additional information in your listing, which are called "rich snippets".
While there are numerous rich snippets you can use for your e-commerce site, the most important one is for product reviews…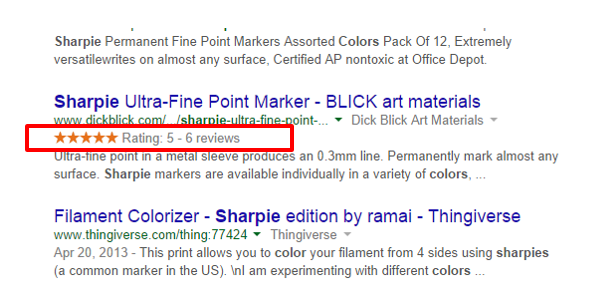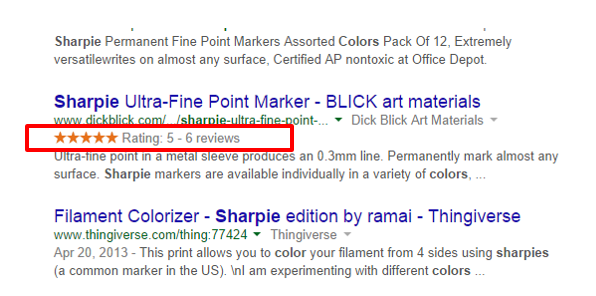 While you can markup other code on your product pages that will show in the search results (in-stock, price, etc), nothing really stands out quite like the product reviews.
Increased click-through rates – Having these product level rich snippets showing up can increase click-through rates by up to 30% — I couldn't find a recent study to link to for this stat. If you find one, let me know.
Many e-commerce platforms already have structured data built in, but make sure you test with Google's Structured Data Testing Tool.
If you need to add the structured data yourself, you can read about adding markup to products here: https://support.google.com/webmasters/answer/146750?hl=en
Product Descriptions
Write unique descriptions for all of your products. The worst thing you can do is copy the description from the manufacturer. I know it's much easier, but you will have a hard time ranking in the search engines with a copied description.
How many words?
There's no set rule here. Write as much as you need so the page has some unique content. If you have thousands of user reviews on your product pages, then you may not really need to spend a lot of time writing meaty product descriptions – you'll already have plenty of relevant unique textual content on the page from the reviews.
On the other hand, if your site is somewhat new and you have zero user reviews, you probably want to add at least 3-5 sentences of unique content for each new product you add.
Sale/Promotion Pages
E-commerce sites have sales all the time. Oftentimes, they get created as a brand new page, the sale ends, and then the page gets deleted or something to that effect. Instead of removing these pages, you can use them again and again to bring in more search traffic.
If you have a Special Clearance Sale, chances are, you're going to have another Clearance sale at some point. Instead of creating a brand new page/URL every time you have a clearance sale, keep the URL and use it again next time.
In the example above, you could have a Clearance page that starts getting some age, over time accumulates lots of social shares, maybe some links and citations, and soon people are searching terms like "[your product] clearance" or even "[your product] on sale" and BAM! – your Clearance Sale page shows up in the search results.
You can do this with Mother's Day sales, % OFF Category Sales, or even Cyber Monday Sales.
You'd be surprised at how much traffic you can generate from users looking for "discount" and "clearance" terms.  Here's Best Buy at top of Google for "clearance electronics"…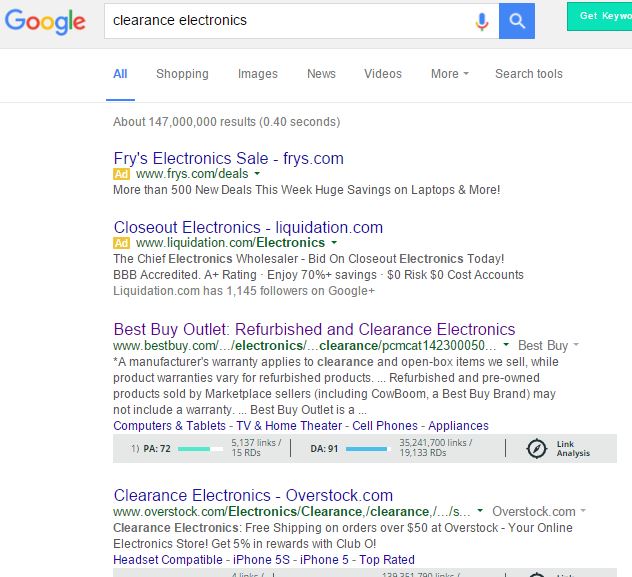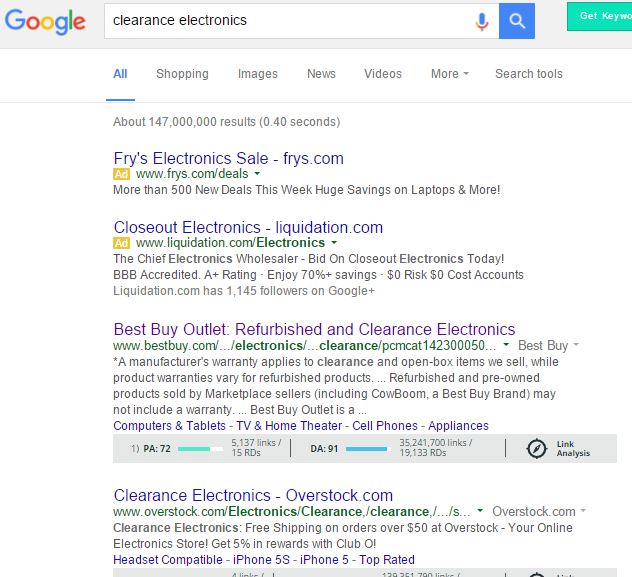 Vendor Links
Getting links from vendor sites is an excellent way for e-commerce sites to build relevance and authority.
Many vendor websites have supplier list pages or Where to Buy pages that also contain hyperlinks to the suppliers website. These are great because, not only are they often somewhat strong websites, but they're also going to be very relevant to your niche or industry. If you can solidify these types of links, it will most definitely benefit you in the search engines.
The first thing to do is locate the websites of vendors you already carry and find out if they have supplier list pages, and if your website is listed. Usually all it takes is an email to get listed.
And don't be afraid to seek out vendors you do not currently carry for the main purpose of obtaining a relevant link. If they have items your customers would be interested in, then it's a win-win.
Expired Products
People handle expired or discontinued products very differently. It's because there are so many options here – delete (404), permanent redirect (301), temporary redirect (302), keep it and list as out of stock, link to similar items, do nothing?
There isn't one best answer. It really depends on the scenario:
Discontinued Item – The best thing to do here is either add a 301 permanent redirect to a relevant product page or to the category page where the product was residing.
OR, you can leave the page up, and add text on the page offering a good alternative, something like "This item has been discontinue. Here's a link to something similar". I like to use this second option when there is a decent amount of content on the page, like user reviews, and a section offering similar items.
Out of Stock Item – If you expect to get these items back in stock, leave the page and have an Out of Stock message. It's also a good idea to let them know when the item will be back in stock and list several related items so visitors can still browse.
The worst thing to do is have the product page removed, leaving a 404 error message to anyone arriving at the URL.
Product Variations
It's a good idea to combine very similar items into one product page. For instance, one product page for sweaters where you can choose the size and color you want (in most cases) is better than splitting them out into multiple product pages (e.g. one page for Green XL Sweaters, one page for Blue Small Sweaters, etc.)
Combining variations of items together into one page will help minimize duplicate content. For instance, it's likely that the content on a Blue XL Sweaters page would be quite similar to the content on a Red XL Sweaters page.
Also, by combining product variations to one page, you consolidate any incoming links, social shares, and user-generated content into one URL, rather that splitting the ranking power between multiple similar pages.
Breadcrumbs
For E-commerce sites, this is especially important. There are often categories, sub-categories, and product pages. Users need to be able to easily navigate through your site and breadcrumbs can certainly help with this.

Also, the breadcrumb links help with internal link flow and accessibility. The search engine crawlers will be able to more evenly spread the flow of link equity, which will help with rankings and indexation.
And finally, the keywords in the breadcrumbs are beneficial from an on-page standpoint and linking standpoint, due to the anchor text.
Site Search
Internal site search is extremely important for SEO and most e-commerce stores have this feature. Looking at what users search for on your site can offer some amazing data that can help you build even more relevant traffic.
First, make sure you have your site search set up correctly in your Google Analytics account. Then head over to the Site Search section, which is under Behavior. Look at what terms people are searching for that you don't currently have pages for. Oftentimes, you'll notice some top searches that you haven't built landing pages for. Creating these additional pages will fill in some great content gaps for additional search traffic.
Architecture
Site architecture is very important for e-commerce sites, especially those that have hundreds and thousands of items. It can be difficult to know how to categorize all of these items, and how the hierarchy of those categories should be laid out.
Since everyone's product selection is different, there's no right answer.
# of Items – Are there too many? Too little? You may want to consider splitting out a category into extra sub-categories, OR, you may consider simply removing a category that's very "thin".
Link Horizontally – Make sure you link category pages to each other whenever relevant. You can do this through dynamic navigation (like a menu that expands to show different sub-categories, based on which page you're visiting) or simply by linking in your text.
For product pages, listing out related items will work great for this.
Sitewide Links – The pages that are linked to within your framework (i.e. main navigation menu) are generally going to be sitewide links, as in, these pages are linked to from every page on the site. Make sure your most important pages are linked to in this way, to ensure they have the highest link equity possible.
Similarly, you may consider removing sitewide links that aren't quite as important as others. The more sitewide links that exist, generally the less link equity and ranking potential each sitewide link will have.
Deep Links – Watch out for category or product pages that are more than 4 clicks away from the home page. The deeper a page is within your site, the more limited its crawlability and indexation will be. Keep site architecture flat.
Content Generation
Use your time wisely
A lot of small business owners have a limited amount of time and money to spend on content. It's important to spend your time wisely to get the most out of the articles you write and the videos you publish.
The more engaging content you create around a given topic, the higher you'll tend to rank for the keywords in that topic. While it's great to focus on creating general content, appropriate for your site as a whole, your time might be better spent focusing on creating content pertaining to one product line. You'll find that this one product line will start ranking and building organic traffic quickly.
For example, if you have 3 product lines, A B and C – and none are ranking – try creating videos, blogs, guides, etc. that are all heavily related to product line C. Once you've grown traffic to C to your satisfaction, move on to B or A.
And don't forget to interlink related content and products/categories to one another.
Create a content hub
Instead of focusing on pages, focus on topics. Say you sell office chairs. Searching "office chairs" in Adwords Keyword Planner, the following Adgroup suggestions appear…
Chairs Cheap
Leather Office
Chair Best
Ergonomic Chairs
Chair Sale
Mesh Chairs
White Office
Ikea Office
Chairs Comfortable
These are keyword groupings that Google feels are closely related to Office Chairs. Let's go one step further and take the Wikipedia page for Office Chairs and throw that in Keyword Planner.
The suggestions are a bit similar…
Office Furniture
Chairs Cheap
Comfortable Chairs
Computer Chair
Chair Sale
Ergonomic Chairs
Chair Reviews
Executive Chairs
Chairs Ikea
To show Google that we have an entire "hub" for Office Chairs, we'll create some sub-categories or content pages that are strongly related. I would start by focusing on the suggestions that overlap. Cheap Chairs is something I would create a page for, possibly Cheap Office Chairs, and make it a sub-category of Office Chairs. Similarly, I'd create an in-depth article about Comfortable Office Chairs, describing in detail the most comfortable chairs being offered, and interlink.
Product Images
E-Commerce websites have a great opportunity to capitalize on all the products listed on the site. Optimizing the product images can bring in a considerable amount of organic traffic through Google's Image Search.
There are two sections of Google where images get displayed. Google's Images Search > http://www.google.com/imghp and Google Image Feature which shows images directly in the normal Google Search Results. Both can pull in a lot of traffic.
Below are some key steps to optimizing product images….
File Names – Add descriptive file names for the images of your products, and use dashes or underscores to separate keywords (e.g. "orange-white-striped-pajamas-xl.jpg").
Alternate Images – Having multiple images for a product can help rank as well. If your e-commerce site incorporates multiple alternate views of produces, you can use this opportunity for optimization.
For example, if you have 3 images for an item, the file names may look something like this >> "north-face-womens-recon-backpack.jpg", "north-face-womens-recon-backpack-interior.jpg", "north-face-womens-recon-backpack-sideview.jpg"
Alt Tags – In the same vein, make sure you have alt tags in use to describe the product pictures.
Original Photos – It's best to take original photos instead of using the same photo of an item that's been used over and over on multiple sites.
Image File Type – Generally speaking, it's best for e-commerce sites to save their images as jpg, as opposed to gif or png files. JPG tends to have the smallest file size and best quality.
Consider Page Context – Your images are more likely to rank if the image content matches the page content. It's also important to consider text near the image as search engines will use this to help determine the subject matter of the image.
CDN Considerations – Some sites use CDN (Content Delivery Network) in an effort to improve site speed. This means the images won't be hosted on your domain. My recommendation here is that if you're going to use a CDN, then host the images on a sub-domain, something like cdn.yoursite.com. This way, you can still get some link equity passed to your root domain when others link to your image files.
Image sitemap – Image sitemaps are special sitemaps – instead of mapping out the web pages, it's a map of the images on your site. This is more important than many realize. Make sure you have a properly formatted Image Sitemap and that it's submitted to Google in Webmaster Tools.
https://support.google.com/webmasters/answer/178636?hl=en
Go Mobile
As of August 2014, mobile has finally surpassed desktop for consumers' preferred method of shopping online.
This isn't just one set of data showing this. It's been coming from several sources – here are a few recent reports…
http://www.shopify.com/blog/15206517-mobile-now-accounts-for-50-3-of-all-ecommerce-traffic
http://www.internetretailer.com/2014/09/04/exclusive-mobile-now-primary-way-consumers-shop-online
http://www.theguardian.com/business/2014/sep/02/online-shopping-mobiles-overtakes-desktop
Not to mention Google has demanded your site be mobile friendly!
Before you start saying how your customers are far more likely to shop on desktop, and maybe you do see 60% desktop users and 40% tablet & smartphone. But have you looked at your site lately on your smartphone? How does it look? If you don't have an optimized design for mobile, it's possible that your current customers know the shopping experience is better on the desktop because there is no mobile friendly version.
According to Internet Retailer, e-commerce sites optimized for mobile convert 160% more on mobile devices than un-optimized sites. "Optimized", meaning you either have a mobile version or a responsive design for your store. The article also mentions a large increase in avg. order size.
My advice for SEO here is to choose responsive design over a mobile version. The main reason is simply that a mobile version of your site could cause you problems if implemented correctly. And since a responsive design is going to keep the same URLs, it's not going to cause an issue.
Related: Google Algorithm Update: Is Google Punishing Sites with Poor Mobile User Experience?
Directories
Most general directories are no longer of any use and you should probably steer clear of most of them. But there are still many niche directories that can add value.
Are your products specialized in some way? Are your products "green"? Are your products American Made? Are your products targeting a certain culture or ethnicity? All these are opportunities to find niche directories to get your business listed in.
For example, if you sell security equipment, here are a few niche directories you could add your company…
http://www.securityinfowatch.com/directory
http://www.insideselfstorage.com/guides/Buyers-Guide.aspx
http://directory.policemag.com/company/
http://www.channelpartnersonline.com/guides/Channel-Program-Guide.aspx
Redirect 404 Pages
A lot of established e-commerce sites have 404 errors, that is, links to pages on your site that no longer exist. You can check your 404 errors in Google Webmaster Tools.
Having these types of errors shouldn't hurt you, every site has them. However, you can leverage these in your favor by pointing these old pages to relevant live pages on the site.
For instance, if you see an old URL that is now showing up as a 404, you can actually see the sites that have linked to it. If you find a 404 error that has 5 or 6 sites linking to it, you can simply 301 redirect the old URL. By redirecting the old URL to the new one, you will be improving the pages link equity, which will help with rankings.
Thank You Pages
All e-commerce sites have an order confirmation page, a page users land on just after they've made a purchase.
Although making a purchase is the primary goal, there is still more to be gained from the customer. For example, they could share their purchase with others, they could follow you on your social channels, they could leave a review about their experience, and the list goes on.
Instead of offering a generic "Thank You for Ordering with us" message after checkout, try leveraging something else, like mentioning your Free Weekly Giveaways on your Facebook page and asking the customer to follow your brand. Or you could ask them to share their purchase on social media for a chance to win something.
These are great ways to extract extra mileage out of those happy customers of yours!
Charts / Graphics
No matter what you're selling, there's almost always an opportunity to create relevant pieces on information on your products, often in the form of charts, graphs, tables, etc. This creates an excellent link-building opportunity. By creating the very best graphic illustrations surrounding specific pieces of information that revolve around the products you sell, you can gain a lot of great links over time.
For example, we created a graphic chart for a company selling security cameras. The chart was about IP Ratings, which shows how protected an electronic device is from things like water and dust. Was it the best IP Ratings graphic ever created? Not really… but it was better than most, and that's all that matters. This graphic illustration of IP Ratings generated dozens of backlinks from all sorts of websites that mention IP Ratings.
Here are some of the sites that used the graphic and/or backlinked to the company (did everyone link back? no. did some rip it off as their own? yes. but I still really like this example)
http://blog.osicctv.com/cctv-glossary/what-is-ip66/
http://www.birddogdistributing.com/IP-Ratings.html
http://www.multiplexx.com/nema-and-ip-rated-products.html
http://www.3d-cases.co.uk/information/ip-rating.php
http://www.arrowelectricals.co.uk/blog/2013/10/explaining-ip-rating-learn-what-ip-rating-your-light-needs-to-be-for-outdoor-use/
http://www.iphonelife.com/blog/28861/what-do-ip-ratings-and-military-standards-rugged-mobile-gear-really-mean
http://www.zdnet.com/product/panasonic-toughpad-fz-g1/
http://www.ubergizmo.com/2013/03/sony-xperia-z-review/
http://www.barcoding.com/Information/ip-rating-definition.shtml
http://www.logicsupply.com/blog/2014/02/19/decoding-water-resistance/
http://tronixstuff.com/category/test-equipment/
http://www.wiedamark.com/iprating.aspx
http://www.sattransusa.com/irid-pho-9575.html
The process is pretty simple…
1) Create a compelling informational graphic that deals in some way with your products
2) Reach out to those that mention this information, and ask them if they'd like to use your new graphic
3) Follow all new mentions of this information, and let them know about the graphic as well
4) Get links from those that use your graphic — Over time, more sites will add your awesome graphic to their site. If they haven't given you credit, simply email them and ask. More often than not, they will link to you.
Visitor Engagement
This is something that doesn't get talked about as much as it should, in regards to search engine optimization. However, how a user engages with your category and products pages DOES affect your search rankings, and this will only grow in importance as search engines evolve.
See RankBrain, Google's Artificial Intelligence for search
Go into your Google Analytics account, check out the average visit duration, bounce rates, and pages/visit to your product pages, category pages, home page, and your informational pages. Does anything stick out to you? Are some pages doing much better than others? Ask yourself why and what can I do to improve these numbers.
If you have a specific goal for all landing pages on your site, it's important to test, experiment, do anything you can to ensure the users coming to your site for the first time are performing the intended goal.

Seasoned internet marketing consultant, founder of Wired SEO, digital marketing company specializing in SEO, Paid Search, and Social Media Marketing.

Latest posts by Clint Henderson (see all)
/
2 Comments
/
by Clint Henderson
https://www.wiredseo.com/wp-content/uploads/2015/11/ecommerce-seo-tips.jpg
500
1647
Clint Henderson
https://www.wiredseo.com/wp-content/uploads/2016/10/wired-seo-company-dk.png
Clint Henderson
2015-11-05 01:33:21
2017-01-29 16:07:48
20 SEO Tips for E-Commerce