https://www.wiredseo.com/wp-content/uploads/2015/11/grow-twitter-followers.jpg
500
1650
Kyle Istook
https://www.wiredseo.com/wp-content/uploads/2016/10/wired-seo-company-dk.png
Kyle Istook
2015-12-02 19:30:03
2016-10-01 22:15:11
9 Ways to Grow Twitter Followers Using Trending Topics

Not all of us can be as popular as @justinbieber or @katyperry, so we have to find creative ways to increase our Twitter visibility and engagement. There are two ways to be seen on Twitter; have a lot of followers ~or~ leverage trending hashtags. When used correctly, hashtags can boost your tweet impressions and skyrocket engagement, leading to higher profile views and website conversions.
What are Trending Topics/Hashtags?
A "Trending" hashtag is a topic being talked about by a lot of people. Trending topics often begin organically, by a popular current event, or are created by users of high Social Authority (or popularity).
For example, Comedy Central's show @midnight has a nightly hashtag game that engages thousands of Twitter users with their unique and creative hashtags. @midnight counts on its TV popularity, as well as 471,000 Twitter followers, to cause its hashtags to trend.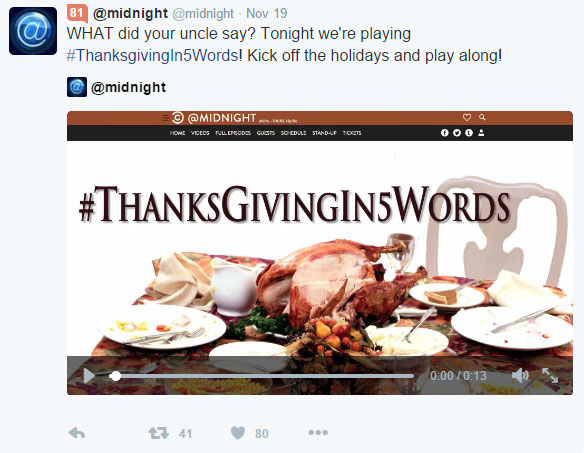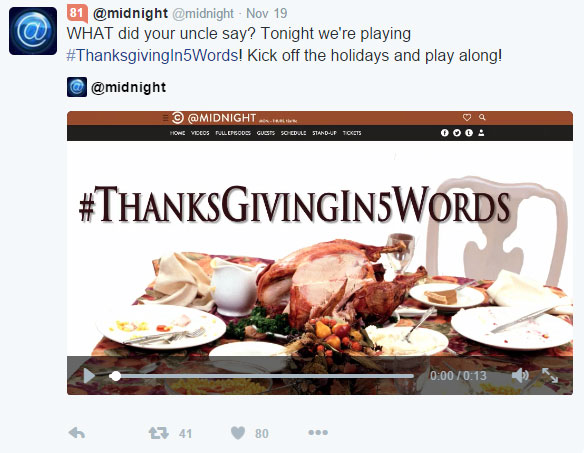 It's important that your content is engaging, on time, and relevant to that topic. No one wants to Like or Retweet a post that misuses hashtags. Make sure that your content is something that others might want to share on their account as well.
1) Get there first
Stay up-to-date with current world/local news, calendar events, entertainment news and online trends. Think of what current events might apply to your brand and draft tweets specifically about those topics.
For example, this tweet of ours was actually was one of the first to use the topic #facebookdown, referring to a 20 minute Facebook crash.


2) Catch people's attention
Use an eye-catching picture, GIF, or video to take up more screen real-estate and grab people's eye.  If you're posting a link to your Blog or website, make sure to add an interesting image. We ran with the #BackToFutureDay bit for one of our clients — When Marty McFly got in the time machine, he went forward to this day!  Big day for social!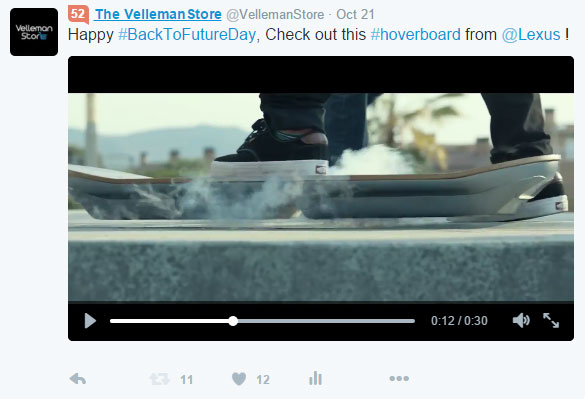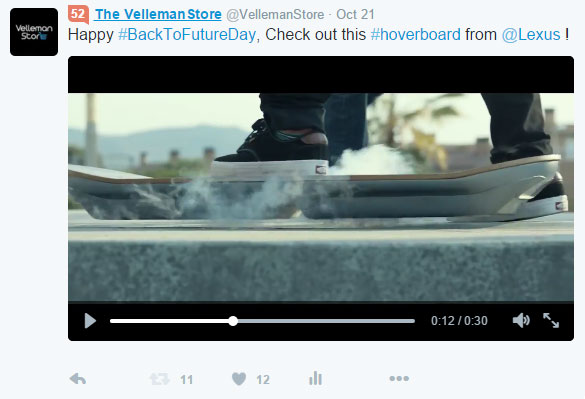 3) Be creative
People get tired of seeing repetitive tweets. If you want your post to stand out among the crowd, think unique! The Walking Dead was having its season premiere, so we leveraged this trend by touting one of our security system clients.


4) Call out your Twitter followers with the highest Social Authority
See who your top followers are in Twitter Analytics (we use Followerwonk for this). It's okay to fish for retweets from bigger accounts as long as you're creative and don't overdo it.
In this example, you can see that Andrew WK (singer of the viral hit "Party Hard' in the early 2000's) is the top follower. We jumped on the hashtag #BadFirstDateActivities and tagged @AndrewWK, since we used a photo of him. Sure enough, he retweeted the post and it received 60x more impressions than our average tweet.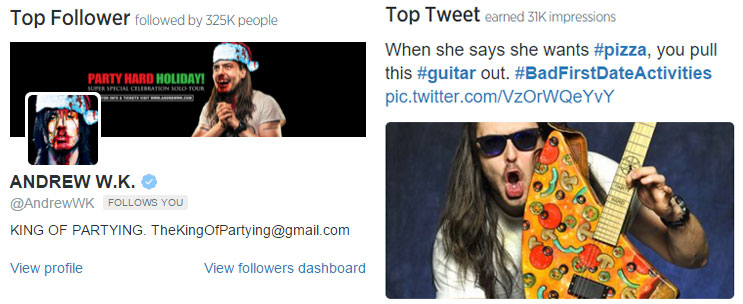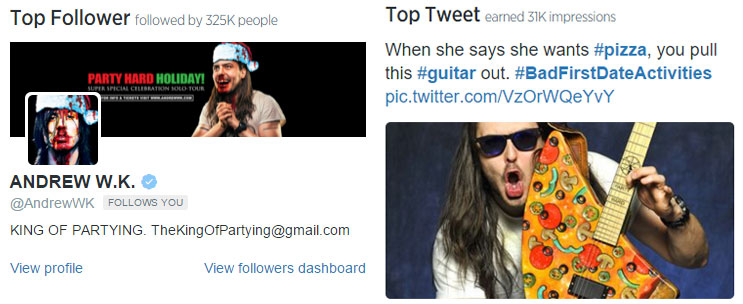 5) Do what others are doing, but better
If you are looking to jump on a hot trending topic, go to the "trends" section of your Twitter homepage and see what's happening. You might just get some great ideas by seeing what others are posting.
You can also sites like BuzzSumo to find out what others are sharing as well. BuzzSumo lets you find the most trending content for a specific topic, filtered by date.
*Pro Tip: The more recent/popular content you use/the better!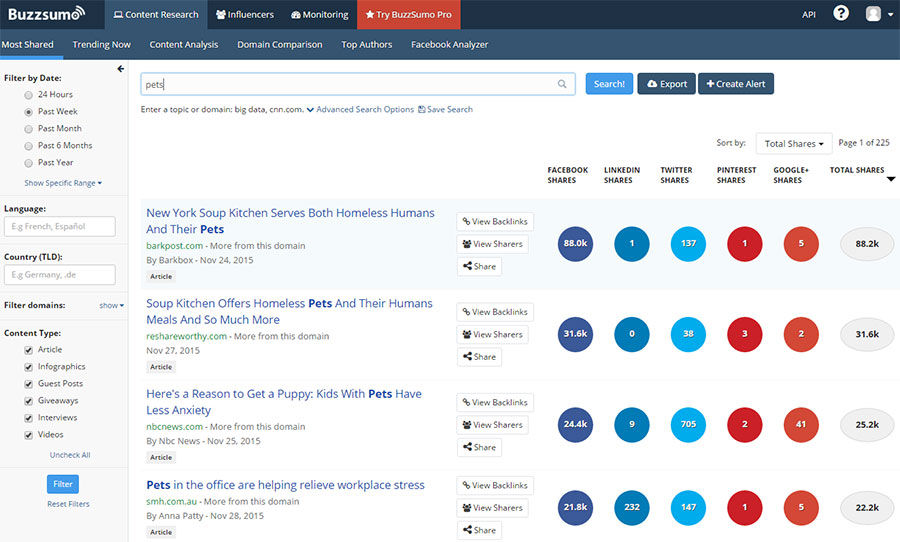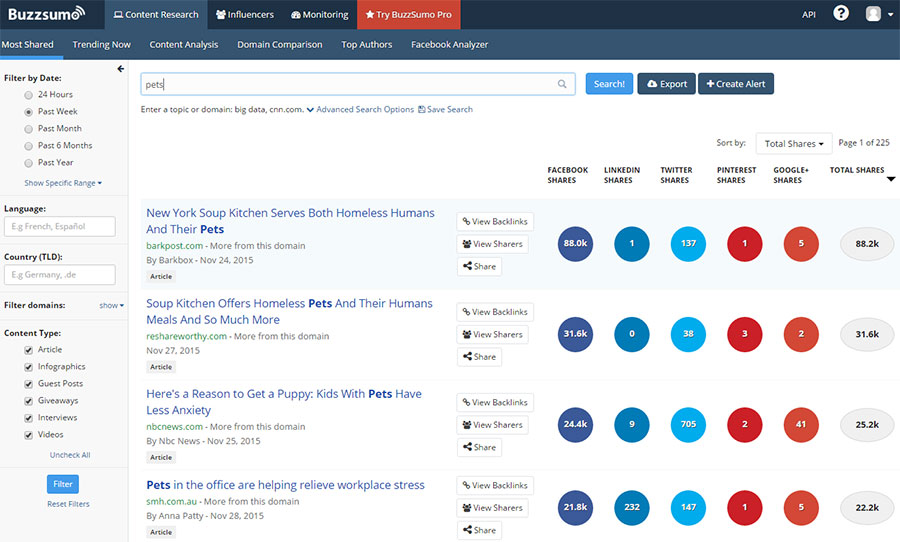 6) Keep your tweets original to Twitter
Twitter has a thing about original content. That is, Twitter doesn't like sharing your Facebook or Instagram posts. You'll notice when someone has used the "share to Twitter" button from another Social Media Platform because the formatting is always off (yes, Twitter is quite rebellious). Since Twitter uses less characters it will often cut-off a sentence mid thought and add an ugly hyperlink to the original post.
Yeah, all those times you thought you were doing well by sharing your Instagram pictures to Twitter…you were actually creating an ugly tweet that might've turned some people off of your account.


7) Move fast to make it to the Top Tweets section
When a topic is trending, there might be hundreds (even thousands) of posts to compete with. Every tweet shows up on the "Live Tweets" section, but only a handful will make it to the "Top Tweets" section. The trick to making it to the Top is to have momentum. That means, the quicker you can get people to like and retweet your post, the more likely it is to stand out above the rest.
If possible, have other members of your team (or your own personal account) like and reshare the content as quick as they can. If you can begin getting engagement on your post within the first 30 seconds, chances are that you'll make it to the top tweets section. I've seen tweet impressions skyrocket, simply because the momentum of that tweet was strong enough to keep it on the Top Tweets section for long enough.
8) If a tweet fails, try again
When your tweet doesn't "hit", or get very many impressions from a trending topic, you can always try again. Sometimes you may have to reword a tweet or try a different idea to get the engagement you are looking for. It's okay to keep trying until you get it right, just don't overdo it or your followers will click that "unfollow" button. Also, make sure to delete those failed tweets, Twitter tends to frown on the repetitive use of duplicate content.
9) Think outside the box to make it relevant
When you misuse a hashtag, the value of your tweets goes down dramatically.  But, there are ways to boost engagement when content does not directly relate to the trending topic. The key is to be clever in your delivery.
Here's an example:
The day Justin Bieber released a music video for his new song "Love Yourself", the phrase #loveyourself went viral. To capitalize on this, we featured one of our client's products, a heart-shaped guitar pick. Although, the product had absolutely nothing to do with the song, the tweet was successfully retweeted and liked numerous times because it played on two of the strengths of the #loveyourself topic, music and love.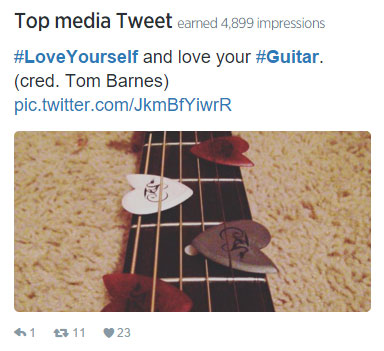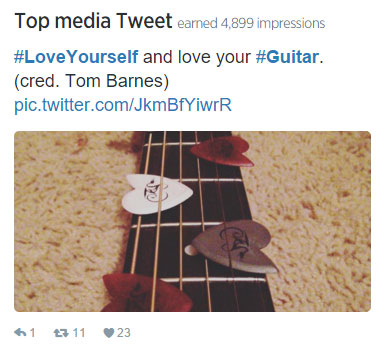 There is no such thing as a 'perfect tweet'. Twitter works hard to ensure that your growth is organic. It's up to you to make sure you are posting the right content, to the right audience, at the right time. Don't let it wear you down if you are only getting a few engagements and impressions per tweet. See what others are doing and learn from their success. Happy Tweeting!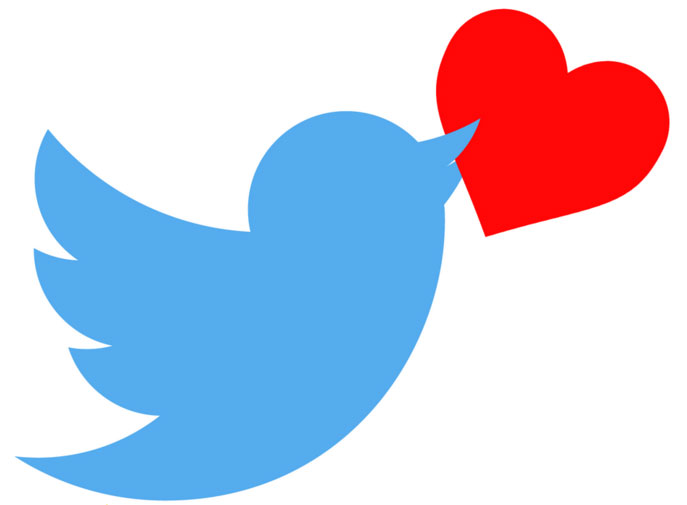 Kyle holds an MBA from the University of Texas at Arlington and is the Social Media Director for Wired SEO, an inbound marketing firm based in Fort Worth, TX.

Latest posts by Kyle Istook (see all)
/
0 Comments
/
by Kyle Istook
https://www.wiredseo.com/wp-content/uploads/2015/11/grow-twitter-followers.jpg
500
1650
Kyle Istook
https://www.wiredseo.com/wp-content/uploads/2016/10/wired-seo-company-dk.png
Kyle Istook
2015-12-02 19:30:03
2016-10-01 22:15:11
9 Ways to Grow Twitter Followers Using Trending Topics